Unique Stays
Classy Camping: Three Homes Where Comfort Meets Nature
Get to know the stories and Airbnb Hosts behind some of the most unique glamping spots in the world.
Written by
Jessica Cumberbatch Anderson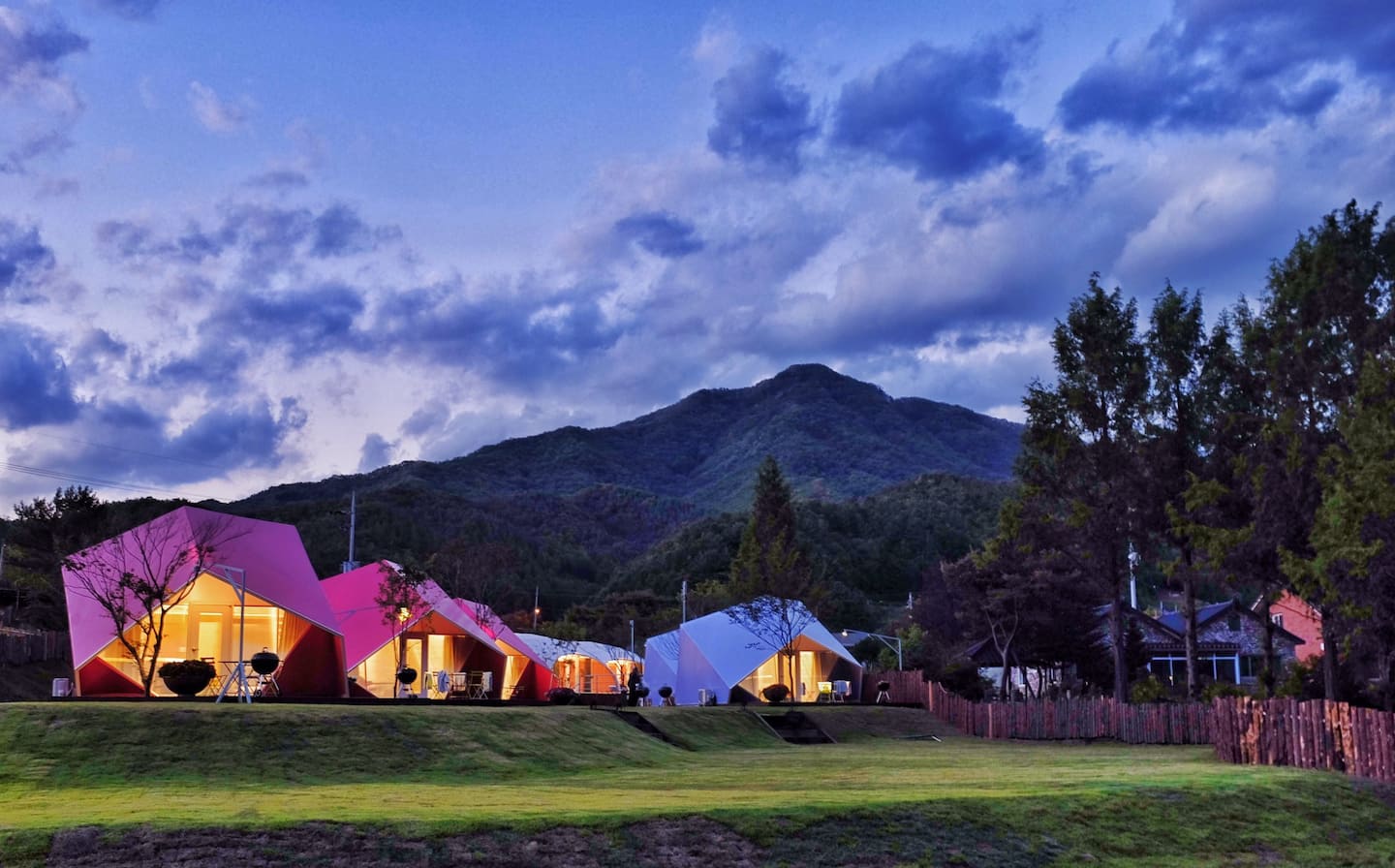 Communing with nature doesn't have to mean roughing it. Elevated architecture is finding its way to spots well off the grid with the glamping (glamorous camping) trend's continued rise in popularity.
Meet three Airbnb Hosts who have mastered the art of glamping, taking camping retreats far beyond a bed inside a tent. We'll visit a handcrafted, old-fashioned wagon with a wooden terrace, an indoor-outdoor guest house constructed from the front end of a boat, and a series of sleek white domes comprising a boutique villa. Here, the luxe touches of a high-end stay can be enjoyed in far-flung stretches of nature.
---
The South Korean Tent Villas
HOSTED BY Banu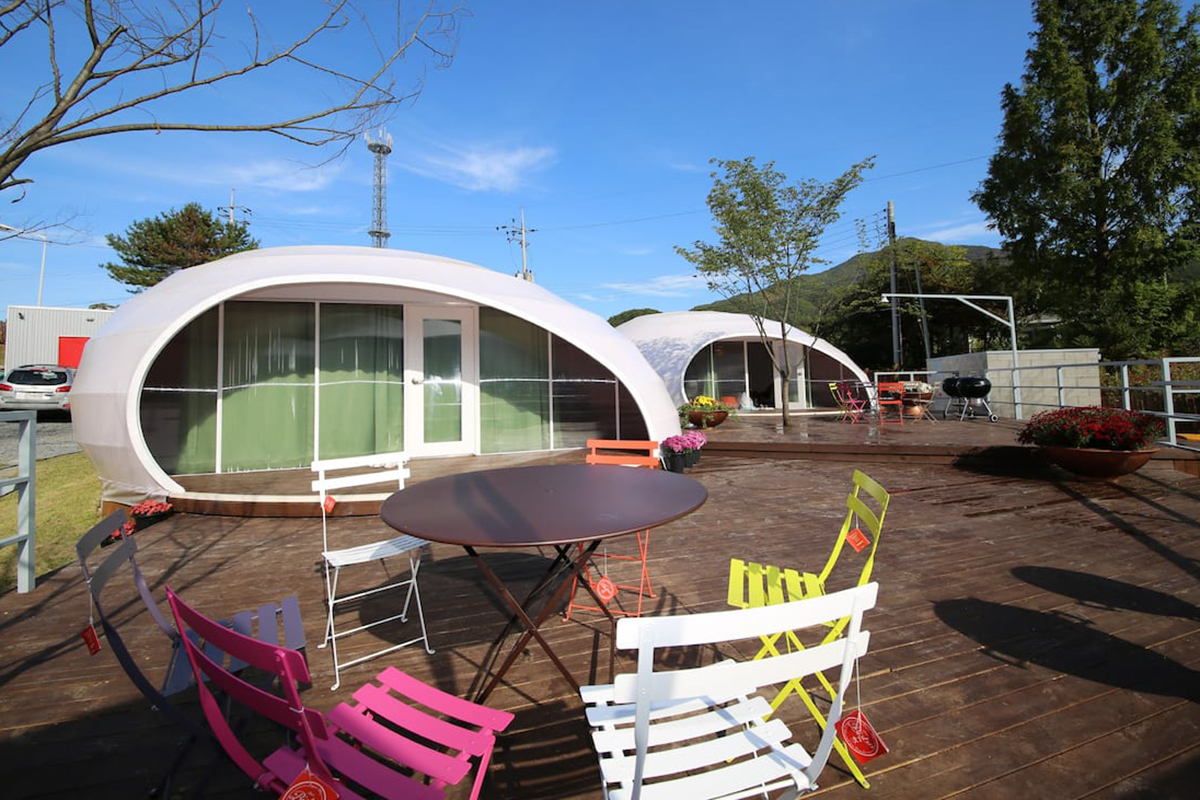 Photography by Joohun Park
Superhost Kwang-ho Kim, founder of Banu, calls his geometric, dome-like tents the pinnacle of luxury glamping in South Korea. Their unique exterior design is offset by minimalist interiors, and the homes are surrounded by lush open greenery and the popular hiking trails of Geumhak-san.
The Story Behind the Home
Kwang-ho (who goes by Kenny) was new to the hospitality business when he started Banu, a set of luxury camping tents set amid mountain ranges and pristine creeks near the Noil River in Hongcheon, Gangwon, South Korea. When he started planning the glamping grounds in 2014, the concept of luxury camping was just starting to gain popularity in Europe, with Korea catching on. But in Korea, glamping tents were of the traditional triangular military-tent style with an emphasis solely on the interior furnishings, Kenny says. What made them "glamorous" was simply the fact that they were furnished.
"I wanted to introduce a tent structure that was based on architectural design elements so that the tent itself was also glamorous in addition to the interior furnishing and amenities." Kenny's mission: To be "totally different, totally modern, totally luxurious, yet totally down to earth."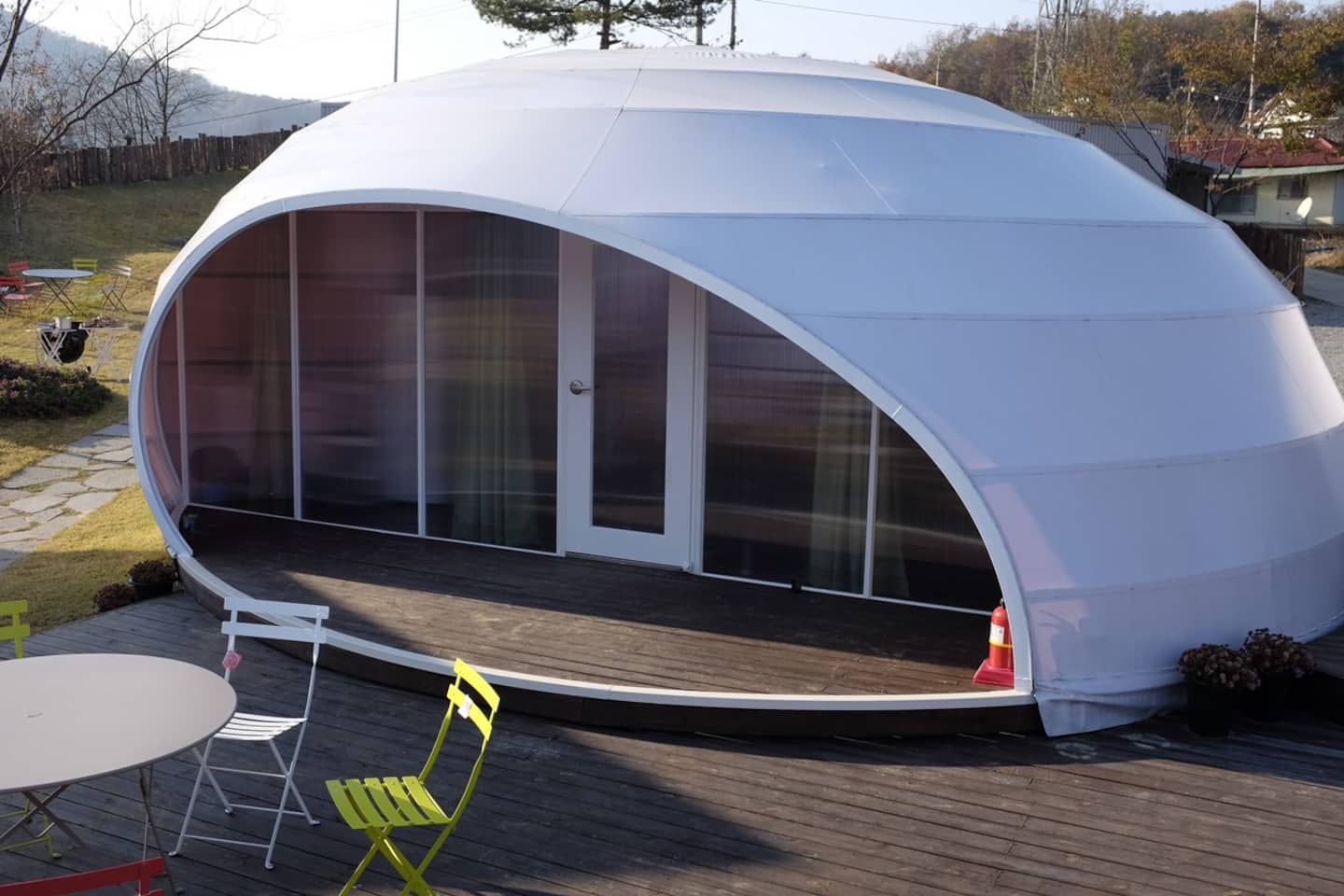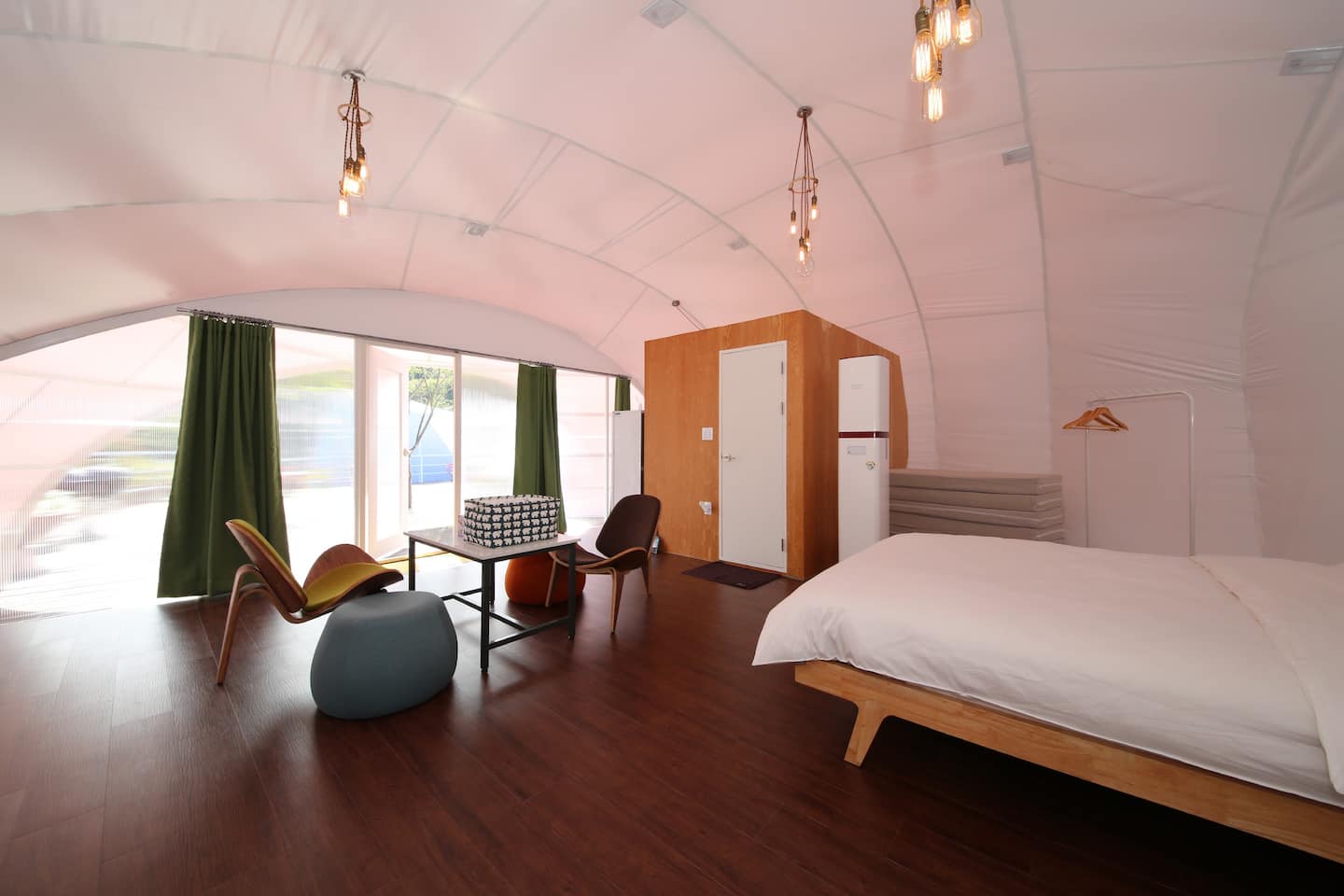 ---
Standout Feature
Kenny teamed up with award-winning MIT-and-Harvard-trained architect Soohyun Chang to design Banu's two styles of tents — Gemma (meaning gemstone in Latin), a duplex loft with high ceiling and an exterior that resembles the cut surfaces of a gemstone; and Domus, with an irregularly rounded and slanted appearance, roomy interior, and varying ceiling heights.
All the tents feature Eames replica chairs, framed prints of modernist paintings, bedding and mattresses like those used at five-star hotels, heated floors during the cold season, and private decks furnished with Fermob outdoor furniture. Despite their luxury amenities, TVs are notably absent, which, according to Kenny, is a design choice meant to encourage unplugging and taking in the natural landscape instead. "Our site is deliberately open with no tall trees and shaded areas covering our tents; we are totally exposed with a clear view of the sky anywhere on our site," he says. "That makes it the perfect place for stargazing on a clear crisp evening."
---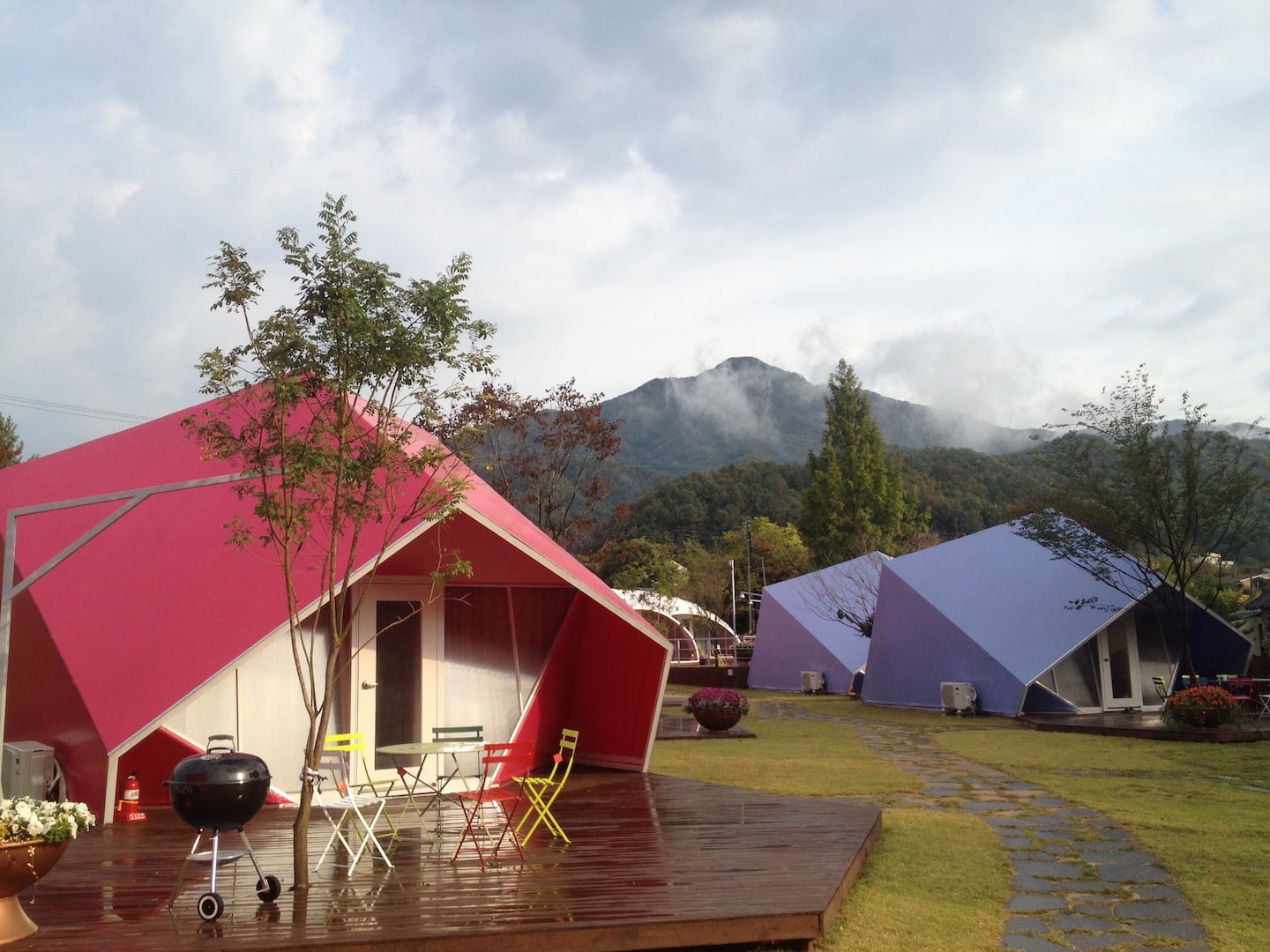 Favorite Guest Memory
One of the benefits of being a Host? When guests bring something special from their homes to share, as Kenny explains. "A really nice guest from Australia brought me a bottle of red wine fresh off the winery she lived near," he says.
---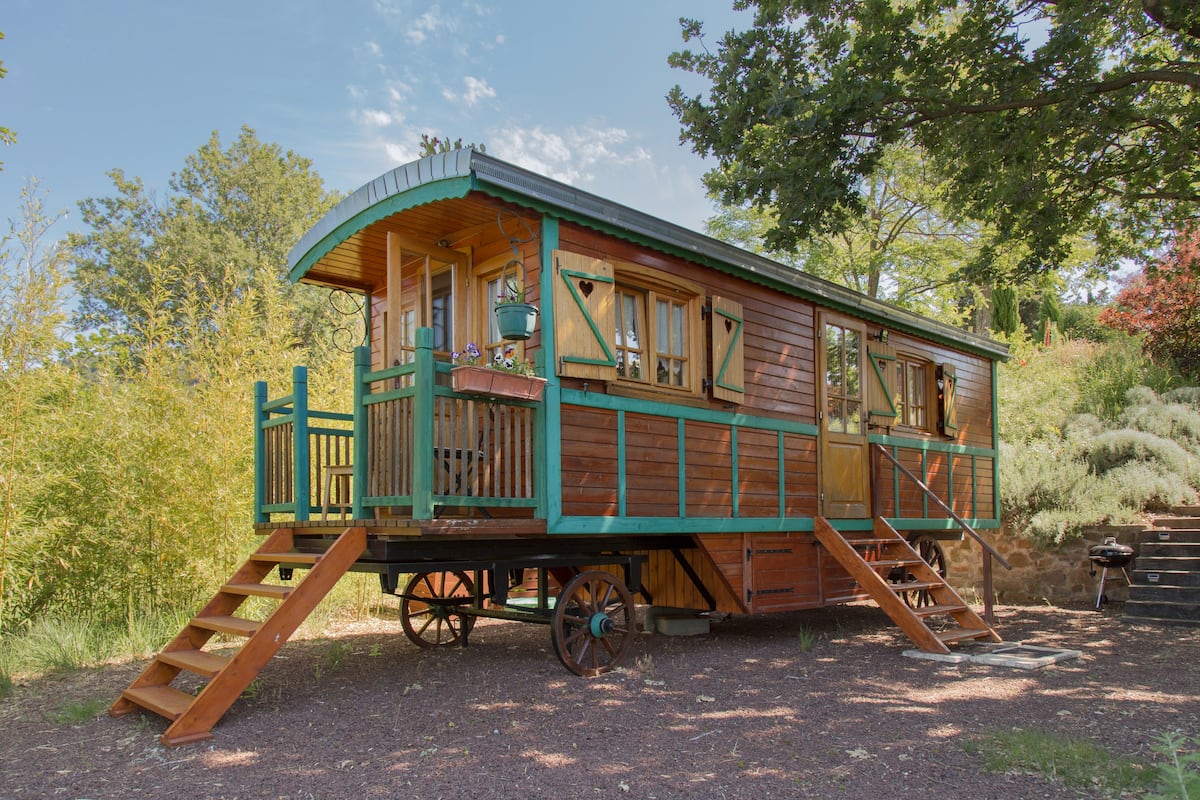 Photography by Johanna Lachella
The warm atmosphere of Airbnb Host Monique Bracque's wood cabin on wheels is matched by the tranquil Mediterranean landscape around it.
The Story Behind The Home
Growing up in the big cities of Nice and Marseille in Southern France, Monique always dreamed of living in the country. On a school trip to harvest grapes, she discovered Ardèche, a department in the southeast and home to the village of Saint-Jean-le-Centenier, not far from the Gorges de l'Ardèche, known worldwide for the Grotte Chauvet, the oldest decorated cave in the world and a UNESCO World Heritage Site.
"I met my future husband in [Ardèche] and I stayed," she says. It's been some 30 years that Monique has called Ardèche home. In 2011, she began thinking of ways to generate additional income for retirement and landed on a guesthouse alongside the property where she lives. Inspired by a newspaper article about someone renting a trailer to holidaymakers, Monique looked for one to buy and found a carpenter who made beautiful caravans fully equipped with a green roof. Before the caravan arrived, however, there was some major landscaping to be done: leveling the ground, connecting water and electricity, building a wooden terrace (for outdoor lounging), and planting shrubs and various plants for scenery.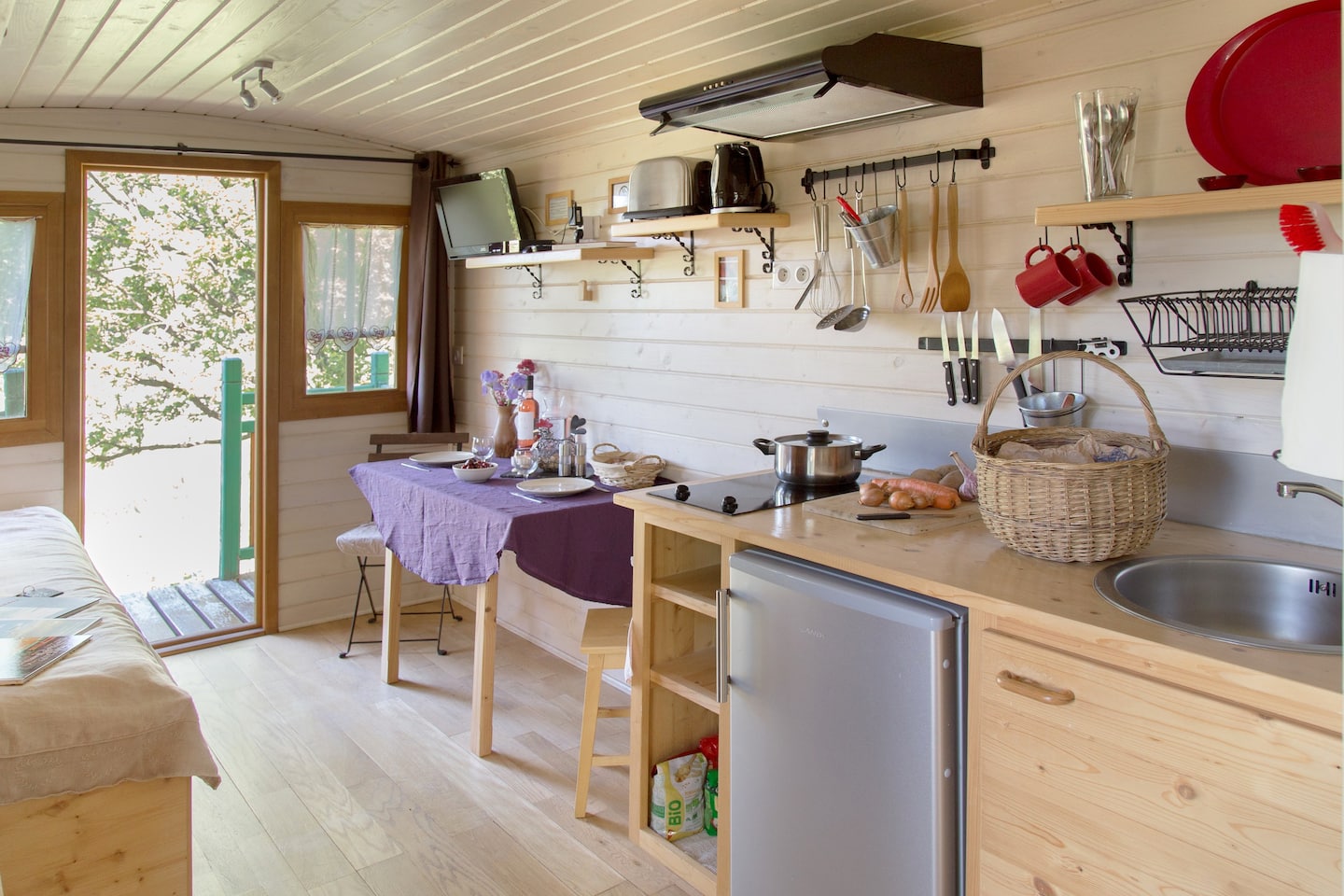 Standout Feature
The resulting camper features cozy accommodations — a kitchen, dining nook, and living room in one space, an alcove bed traditional to nomadic people, and a small bathroom with a shower, sink, and toilet — fitting for a couple or small family. "Guests are seduced by the originality of the accommodation and by its beauty," Monique says. "There is everything you need in the minimum of space, including all the accessories for the kitchen. Guests are always amazed that I have thought of everything!"
---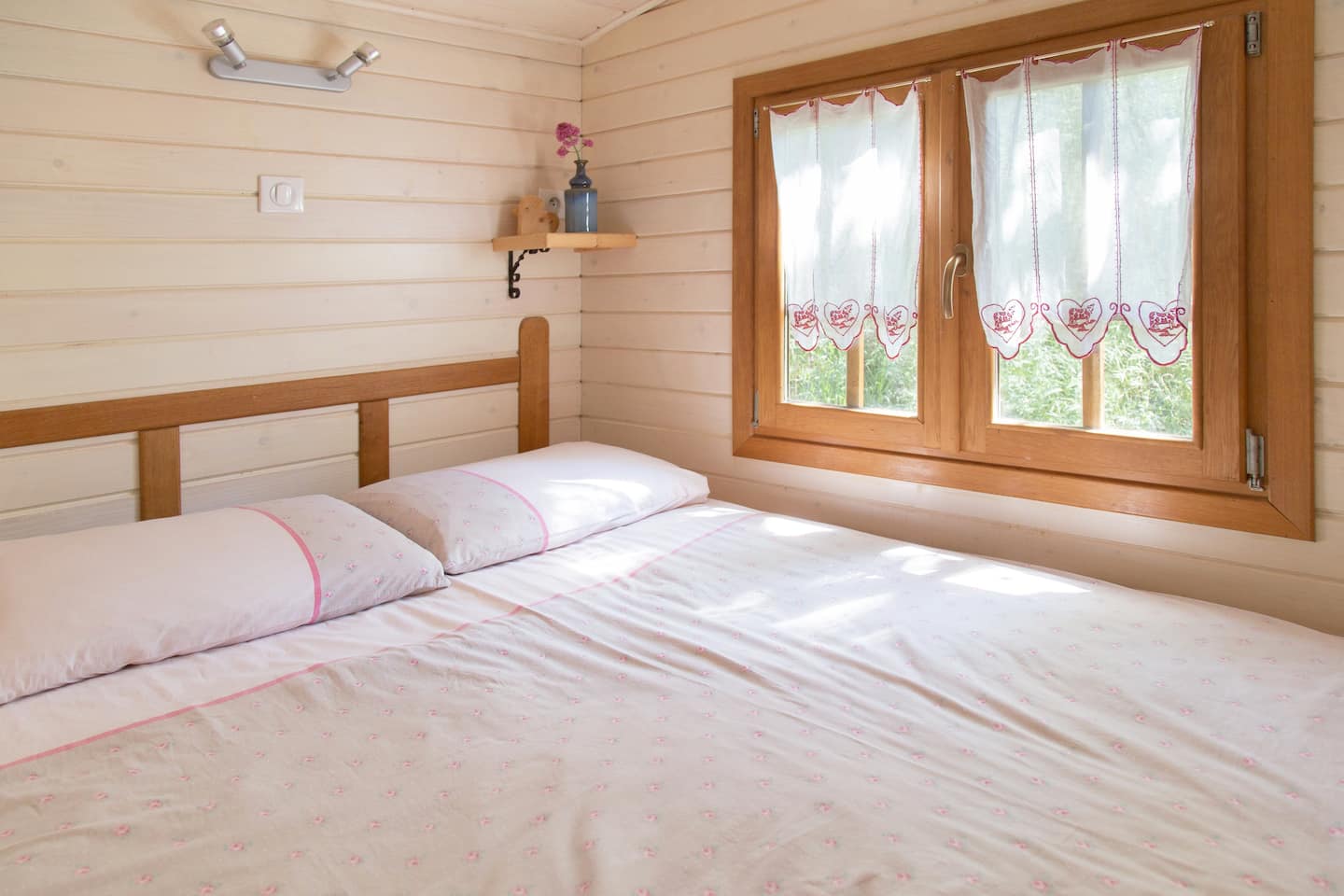 ---
Favorite Guest Memory
Taking in the beauty of the landscape and the quietness of the area has been one of Monique's favorite pastimes with guests. "One summer day we drank aperitifs on the wooden terrace in front of the caravan," she recalls. The merriment went on for hours, and despite its simplicity, the experience was as memorable for Monique as they come.
---
The English Converted Boat House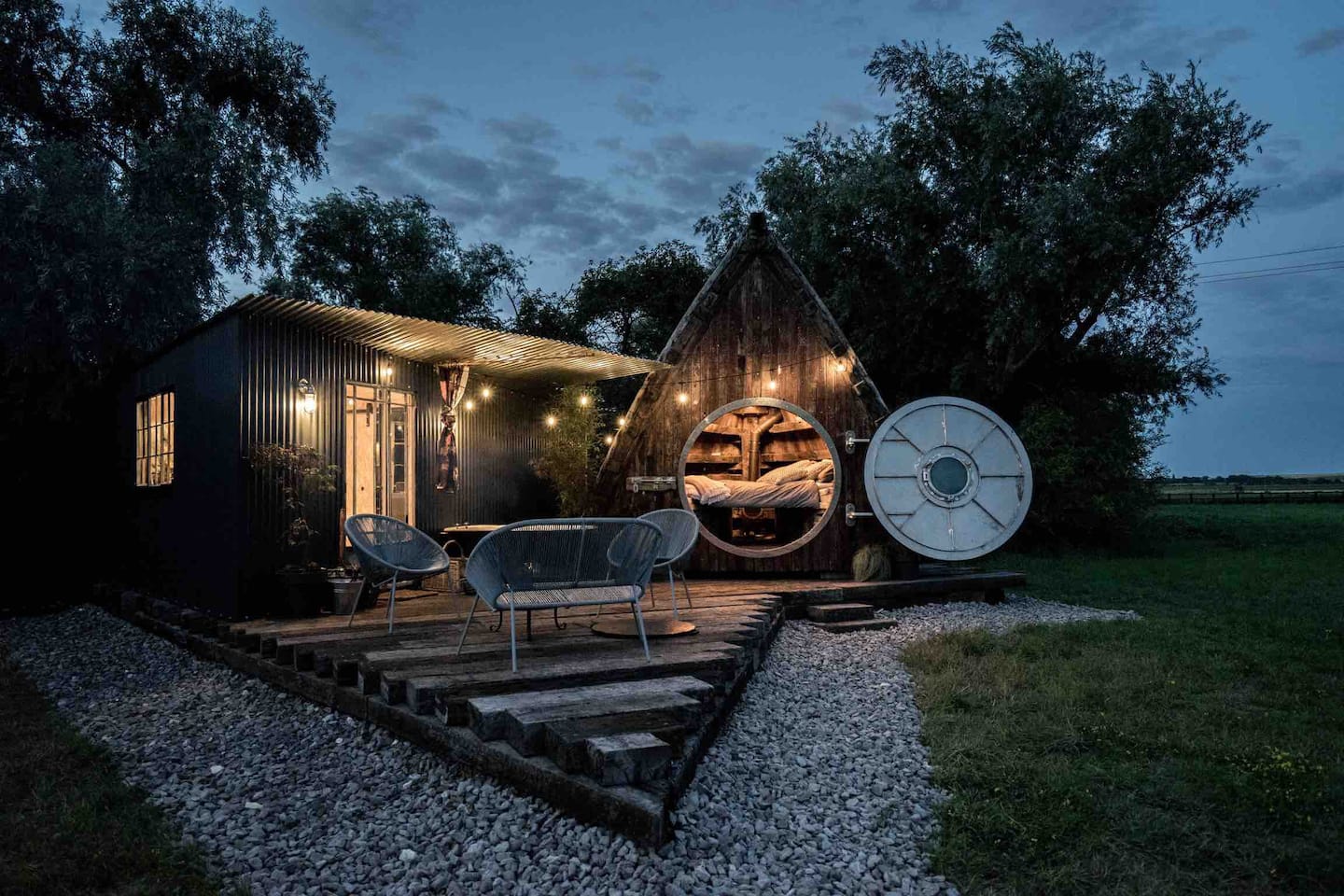 Photography by Superhost Steven Koch
The quirk of Superhost Steven Koch's converted boat house — with its dark hues, wood, and recycled materials — belies the sleek design guests find inside. Bonus feature: it's just 1.5 hours from London.
The Story Behind the Home
Steven wanted to create a holiday getaway for guests on the rural farm where he lives with his wife, their four young sons, and four horses, three goats, three sheep, nine pigs, four dogs, and 30 chickens.
In thinking of what the retreat would entail, he dreamed of a singular glamping experience, so when he discovered a boat from 1945 that was being decommissioned, he bought the front end and used it as the frame for a guest bedroom. Steven used the boat to finish off the bedroom part of the house, listed it on Airbnb, and set availability for six weeks away to see if people were into the concept.
"If people were interested, I'd basically have six weeks to build the rest of it," he explains. The demand was indeed there and Steven spent the next month and a half building out a deck area, kitchen, and bathroom that played off the angular shapes of the original bedroom design.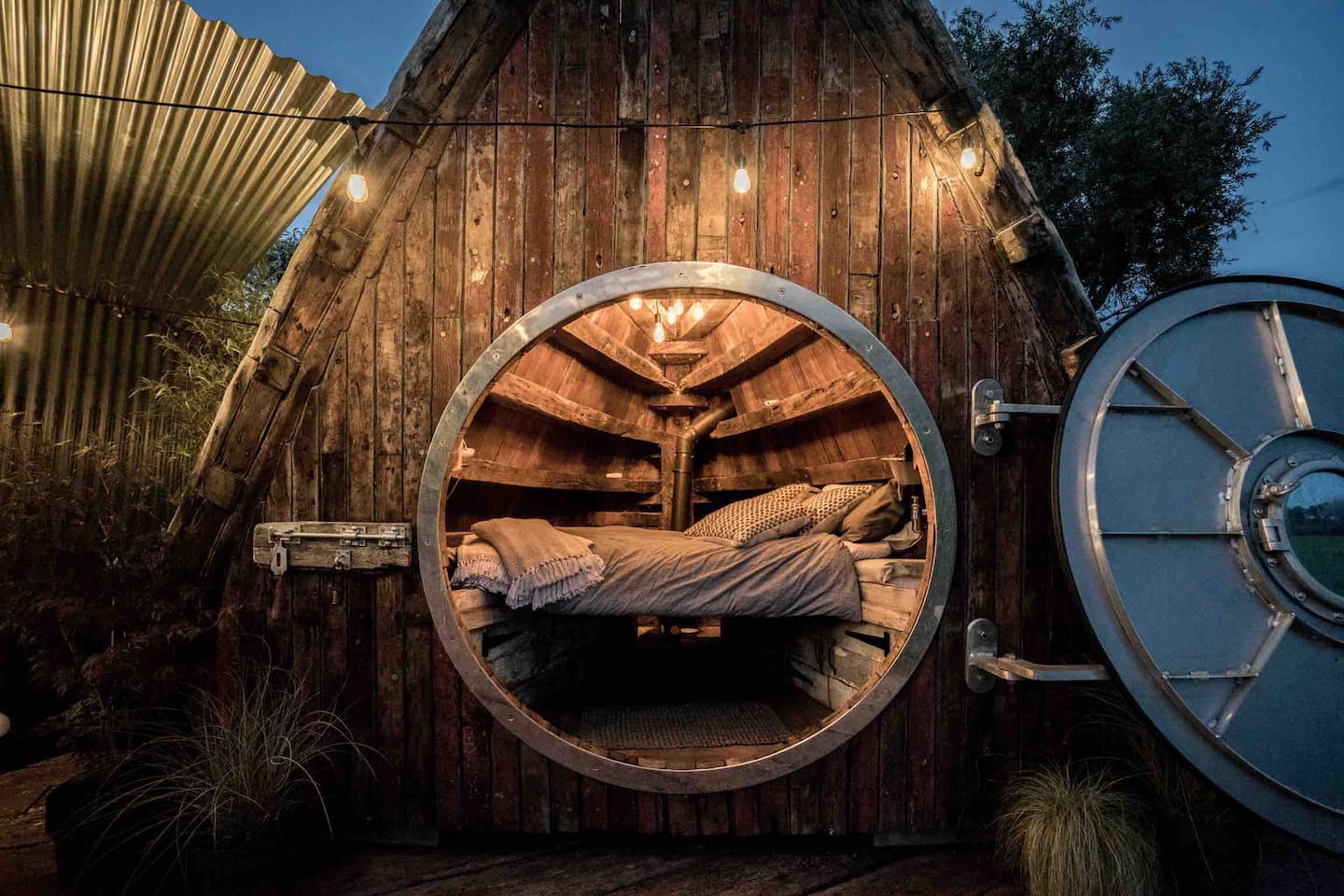 Standout Feature
Playing up the glam elements of his "camping" experience was top of mind for Steven, who built the home almost exclusively with reclaimed materials. "We've been glamping a few times, and one thing that's super important is the creature comforts that come along with glamping … as well as it being unique, it also has to be premium and luxurious," he says.
To that end, he created a photo-op-worthy outdoor bathroom (which he says guests use year-round) and saw to it that the unit was stocked with hotel-like touches, including fresh towels, organic soaps, and ingredients to make s'mores around the fire pit.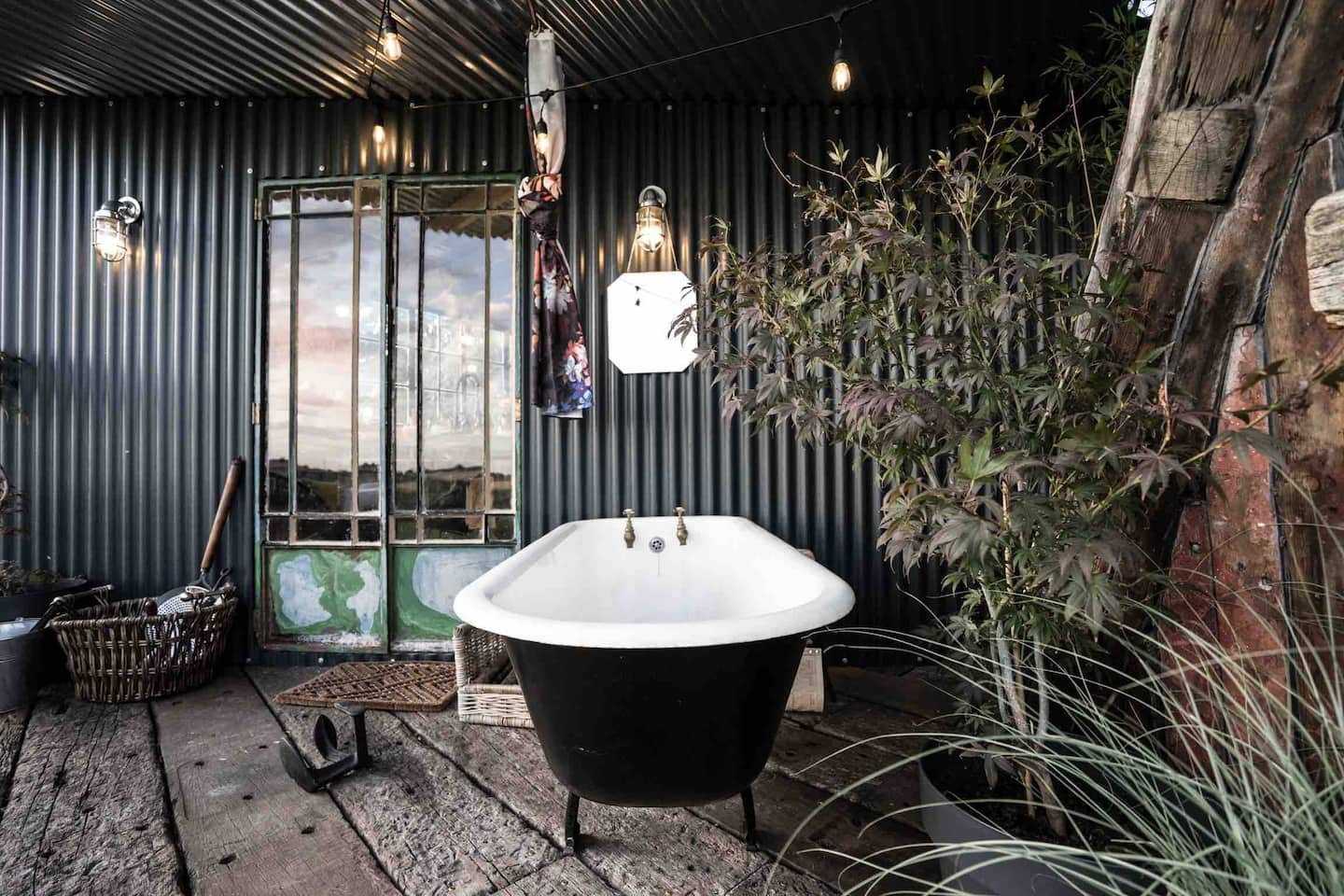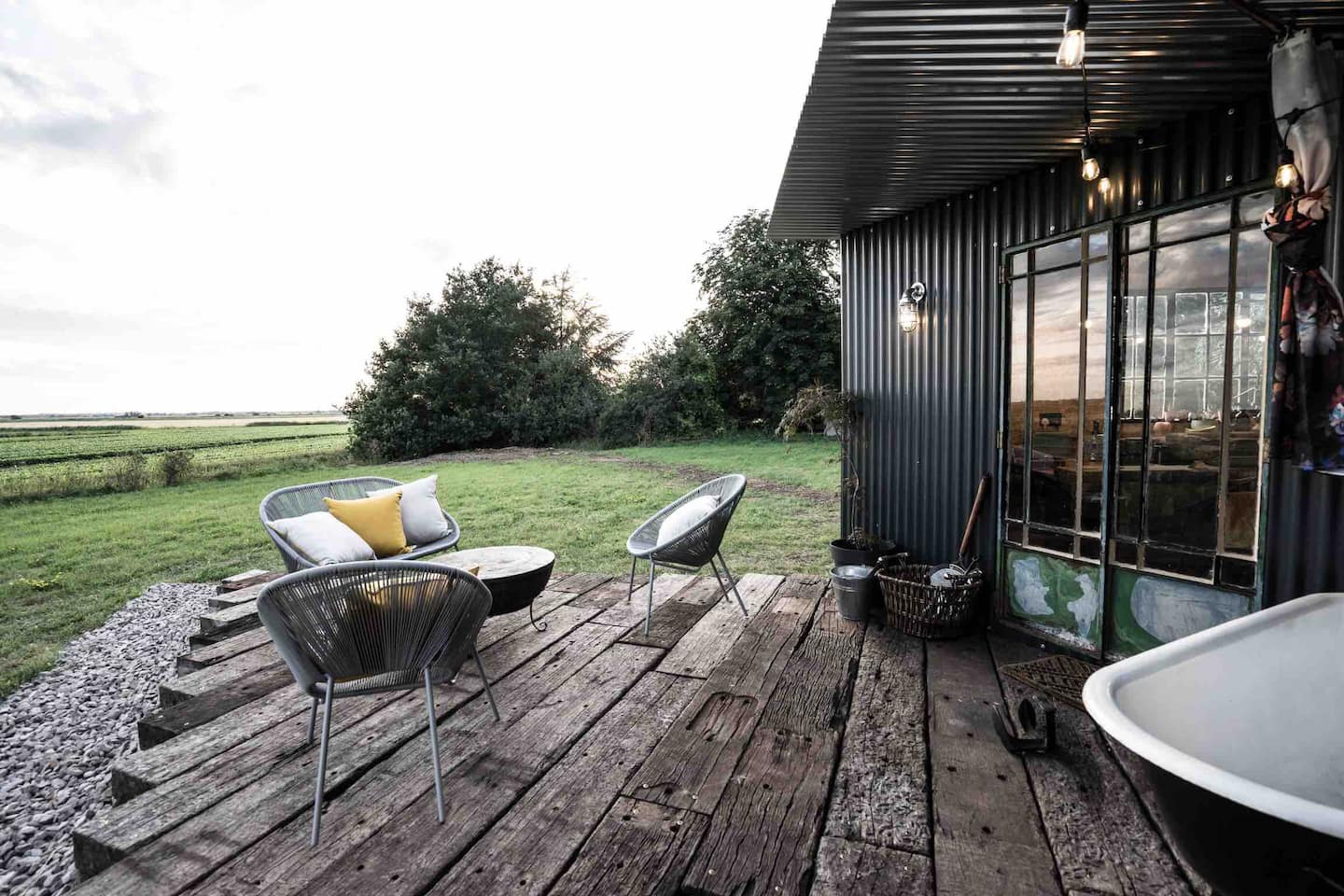 Favorite Guest Memory
Proposals are popular among guests of unique stays, and Steven's glamping experience is no exception. One particularly memorable one happened between the boat house and a second glamping property that Steven is in the process of converting, a 1920s carnival wagon that likely made the rounds in a circus or two. Out front, Steven set up an iron archway strung with lights, a quaint table for two, and an assortment of sweet treats — a romantic prelude to a proposal and a night's stay at the boat house.
---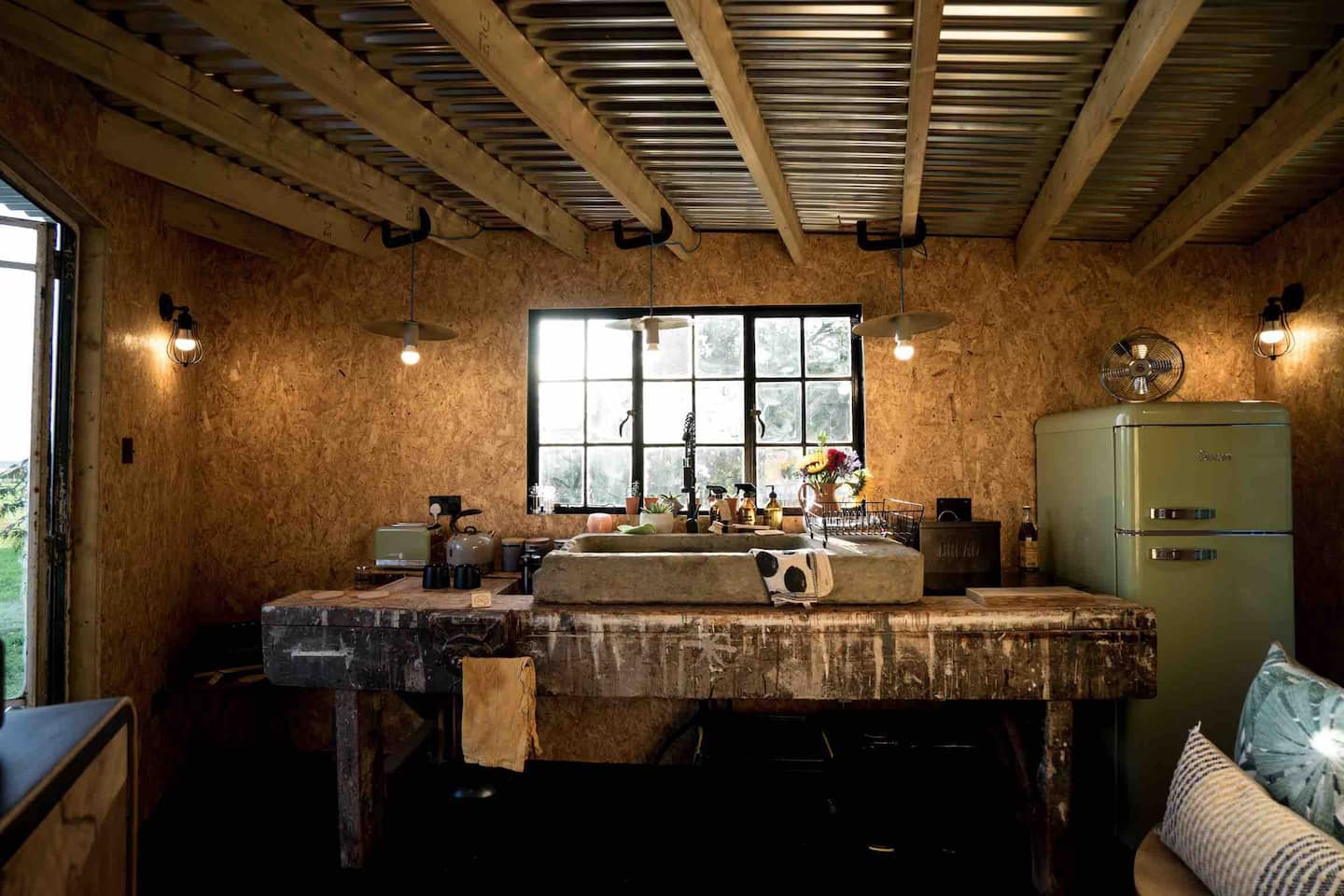 Written by
Jessica Cumberbatch Anderson
Jessica Cumberbatch Anderson is an award-winning writer, editor and content strategist with range across editorial, partnerships, video, and social media. At the heart of her creative process: good taste and a perfectionist spirit and a passion for telling a diverse array of stories. Jessica's work has been featured in both print and digital editions of ELLE Decor, Lonny, T Magazine, Architectural Digest, Better Homes & Gardens, and Martha Stewart Living, among others.
---
Explore glamping on Airbnb
---