Unique Stays
Mini Marvels: Three Tiny Homes That Bring the Charm
Get to know the stories and Airbnb Hosts behind some of the most memorable tiny homes in the world.
Written by
Stephanie Granada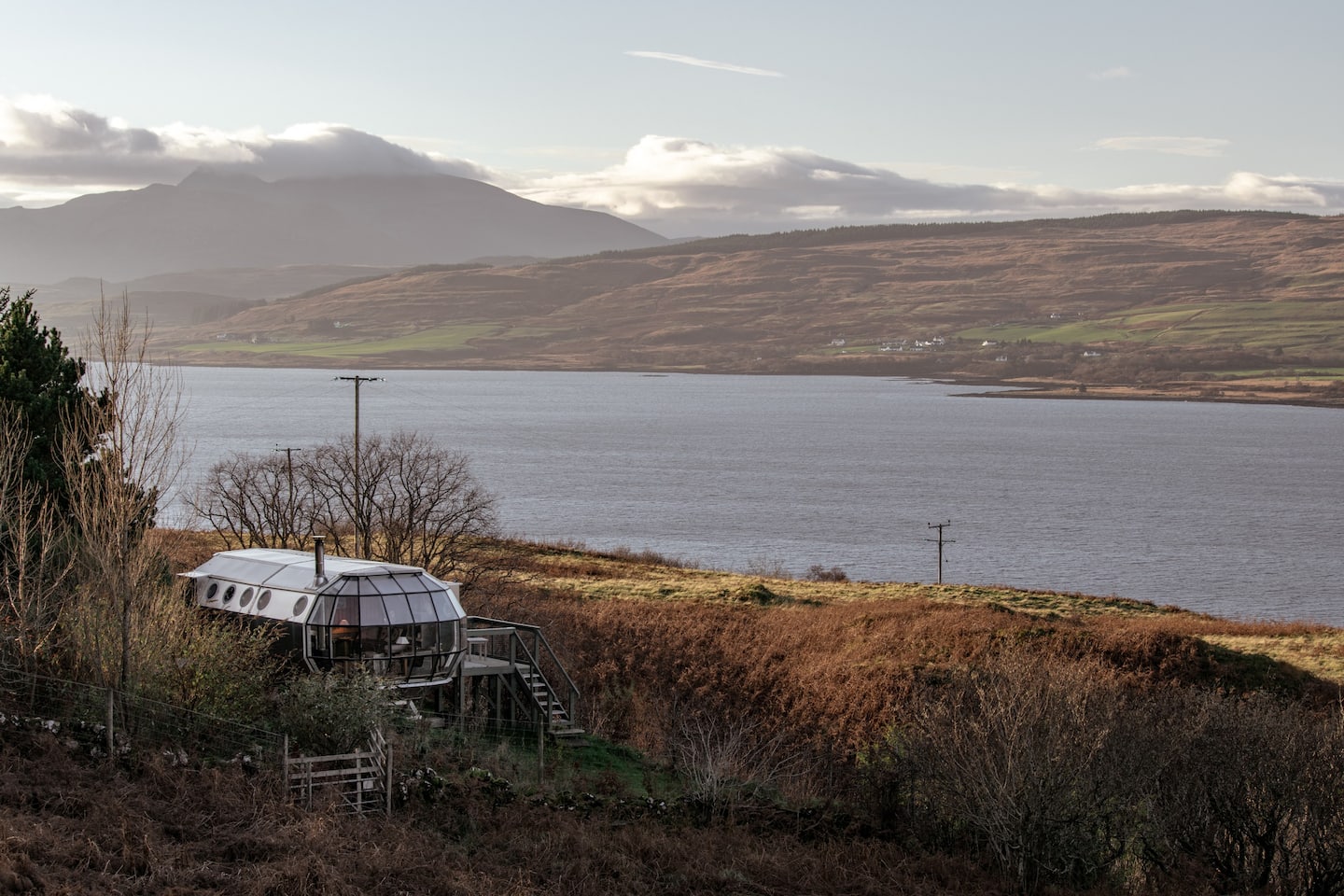 Going tiny is bigger than ever. And for good reason — the tiny house movement has expanded beyond homes on wheels to include whimsical treehouse-like abodes in the woods and modern-luxe glass structures designed to soak up starry night views. Meanwhile, interiors have been upgraded to ensure all creature comforts are met and surpassed, even while staying off the grid.
At these three pint-sized homes on Airbnbs, you'll commune with nature while being a stone's throw from New Zealand's Canterbury wine country; sneak away to a couple's dream fairytale setting in New York's Berkshire mountains; and get a lesson on sustainable living in the Scottish Highlands.
No matter where you land, you'll feel as though you've stumbled into paradise with these tiny homes, where square footage is kept small in exchange for plenty of room to roam wild outdoors.
---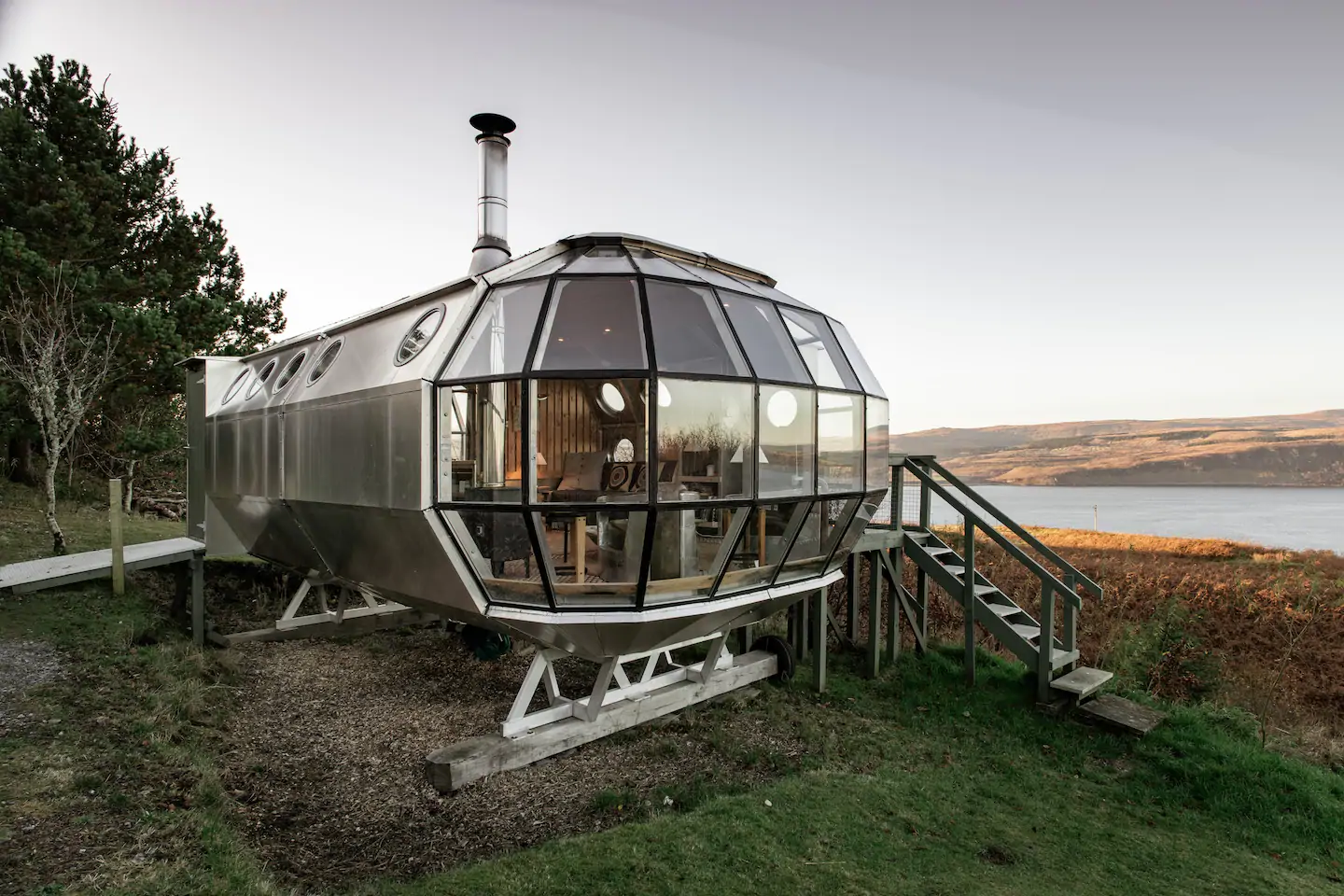 Photography by Nigel Rigden
On this insulated aluminum pod, designed by Superhost Amanda Markham's architect husband, Roderick James, curved windows take up a large chunk of the front of the self-sufficient structure and overlook the Sound of Mull.
With its capsule-like metallic exterior and porthole windows, the couple's prototype for a futuristic, sustainable prefab home, dubbed Airship 002, feels like it deserves a place in a science fiction fantasy. But the 420-square-foot tiny house is fully grounded on Scottish soil. Wood paneling softens things inside, and every design detail serves an aesthetic and utilitarian purpose — with the main priority being providing an undisturbed connection to the Highlands.
---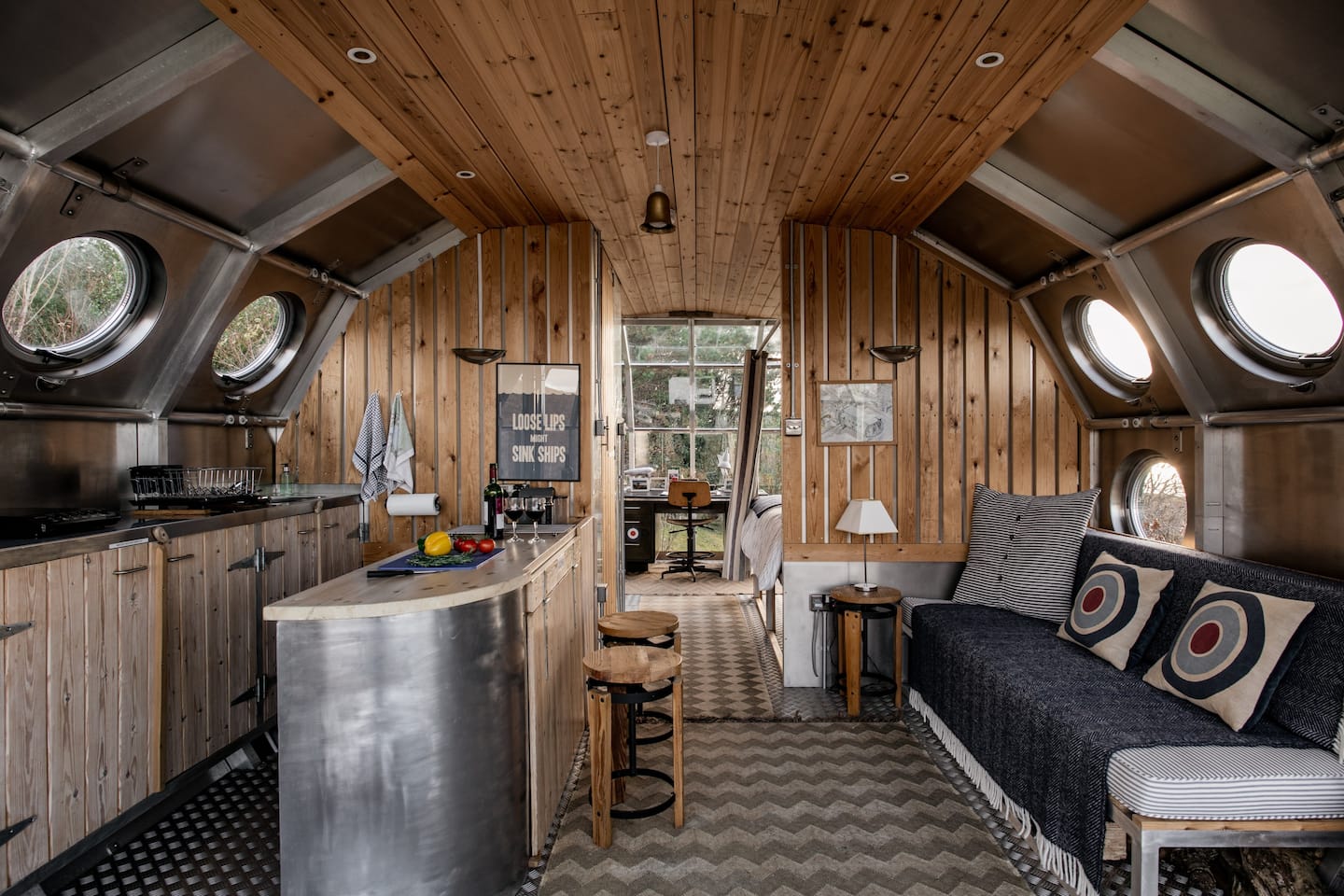 ---
The Story Behind the Home
After meeting in London, Amanda and Roderick — an acclaimed architect known for his modern sustainable designs — relocated to Scotland for work and fell in love with the country. But it was a trip to California, where the couple stayed in an Airstream trailer in the Santa Monica Mountains, that inspired them to build small, unique spaces back home. Their four-acre property in Drimnin, on Scotland's western coast, turned out to be the ideal locale to post up their Airship 002 — the prototype for their modular, aluminum-clad homes (with four inches of insulation for climate and noise control) that can be assembled in any idyllic locale.
Amanda, who is a designer and collaborates with Roderick on most of his projects, ensured every detail within works double-duty, like the wood-burning stove, which heats the space and shower water; the storage sofa, which doubles as an extra bed; and the foldaway table on the kitchen island. "We enjoy the challenge of designing comfortable tiny spaces that don't require you to move or fold away furniture for each activity," she says.
---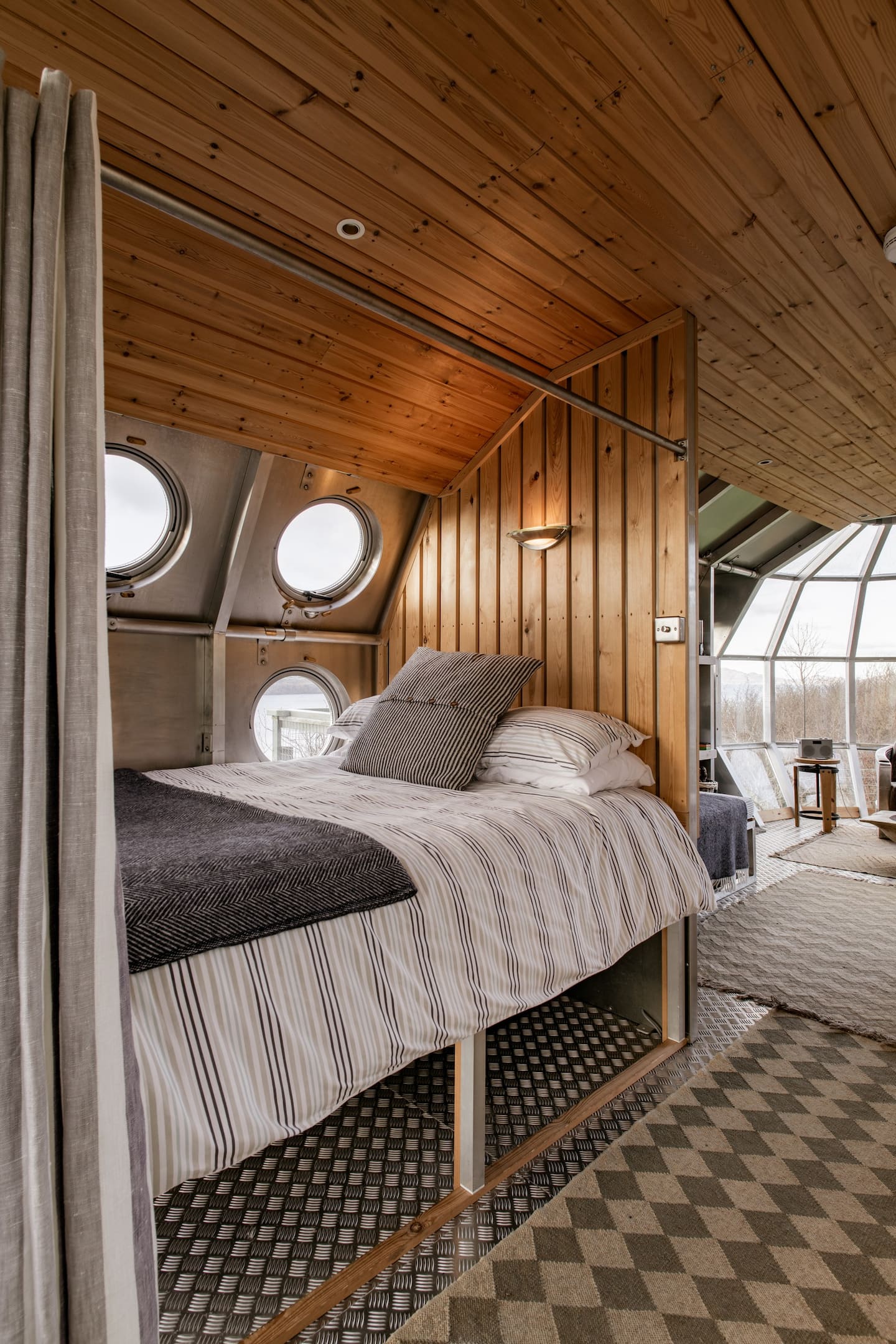 ---
Standout Feature
Amanda calls the spherical glass panels that stretch across the front of the capsule "dragonfly windows" after the oversized eyes of the namesake insect. "They provide a different and exciting view of the Sound of Mull with the Isle of Mull and Tobermory beyond," Amanda says.
---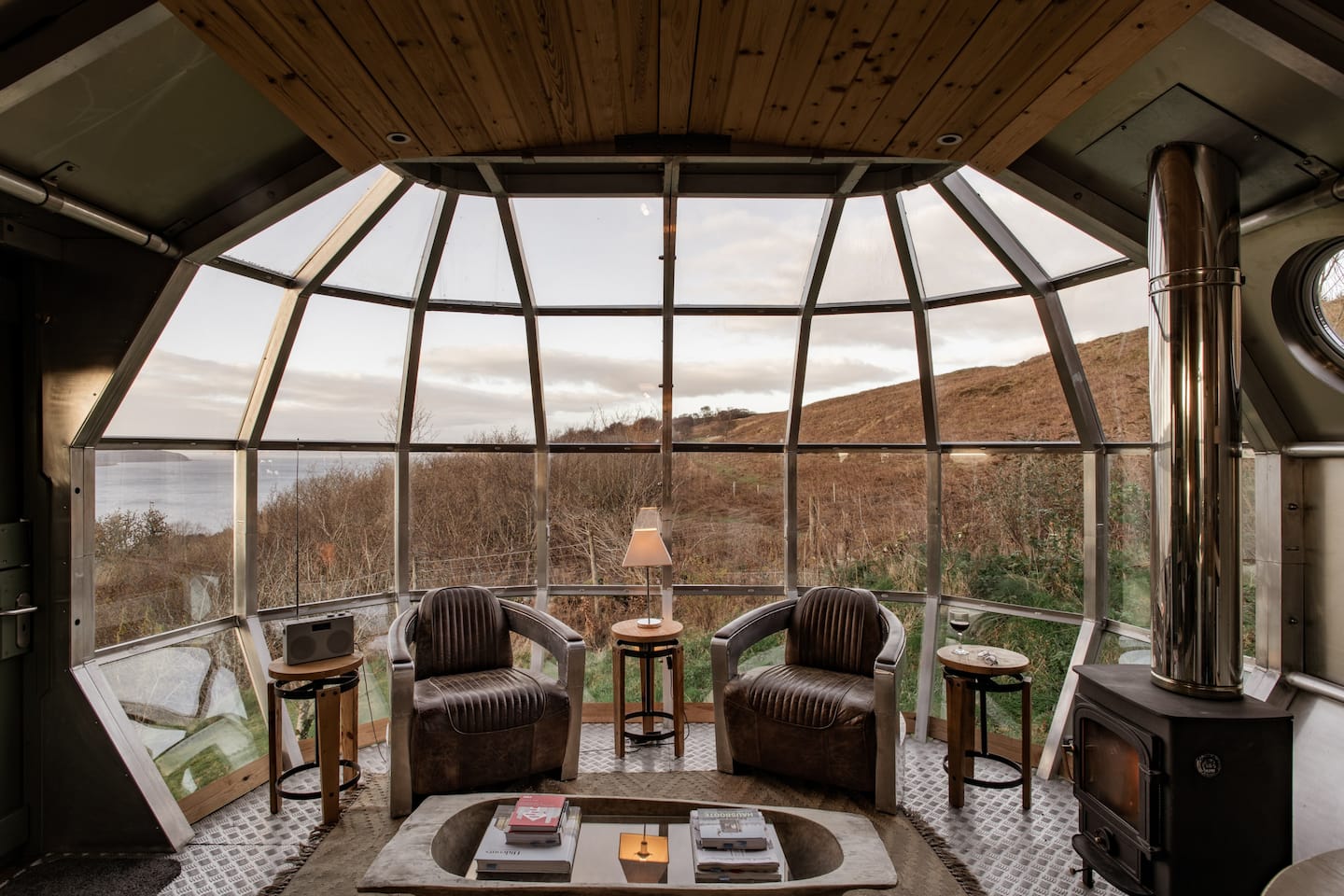 ---
Favorite Guest Memory
After one pair of late-arriving guests learned that things shut down early in the nearby harbor village of Tobermory (the closest town, accessed via a ferry that's a 10-minute drive or 30-minute walk through the woods), they phoned the Hosts, who invited them over for dinner.
The couples bonded over shared heritage and interests, as the visitors worked for a charity that built hospitals in Africa. "My husband was born in Africa, and his father had built a hospital in Burundi which they had visited," Amanda says. "We have remained friends ever since."
---
The Massachusetts Tiny Tower
Hosted by Josh
Photography by Denise Hoefer
Last fall, when Joshua Williams, a performing arts middle school teacher, and Shaun Mosley, a physical therapist, purchased Santarella Gardens, the four-acre Berkshire Mountains compound that once belonged to sculptor Henry Hudson Kitson, they envisioned the setting being perfect for hosting bed-and-breakfast guests and weddings — including their own in 2022. And rightly so: The entire site is charming, including the 350-square-foot tower with its two-story layout that includes a pellet stove on the ground floor and a canopied bed upstairs, with miles of winding trails, lush greenery, and lily ponds surrounding it.
The Story Behind The Home
The Enchanted Tiny Tower was born of the curious mind of Kitson, who in the 1920s transformed the main colonial home and dairy barn on this 19th-century homestead into his home and art compound. Over the years, he added several fanciful buildings, including the tower — a relocated old grain silo, which he converted into a secondary studio.
Joshua and Shaun were already dreaming of leaving New York City and relocating to a small town where they could be a part of a community and start their own hospitality business when they stumbled upon the home on a road trip last summer. "It's as if someone knew the images in our head and created them in the most beautiful landscape — the Berkshire mountains," Joshua says.
The couple leaned into Kitson's 1920s fantasy by outfitting the tower with vintage furnishings and maintaining the lush gardens.
---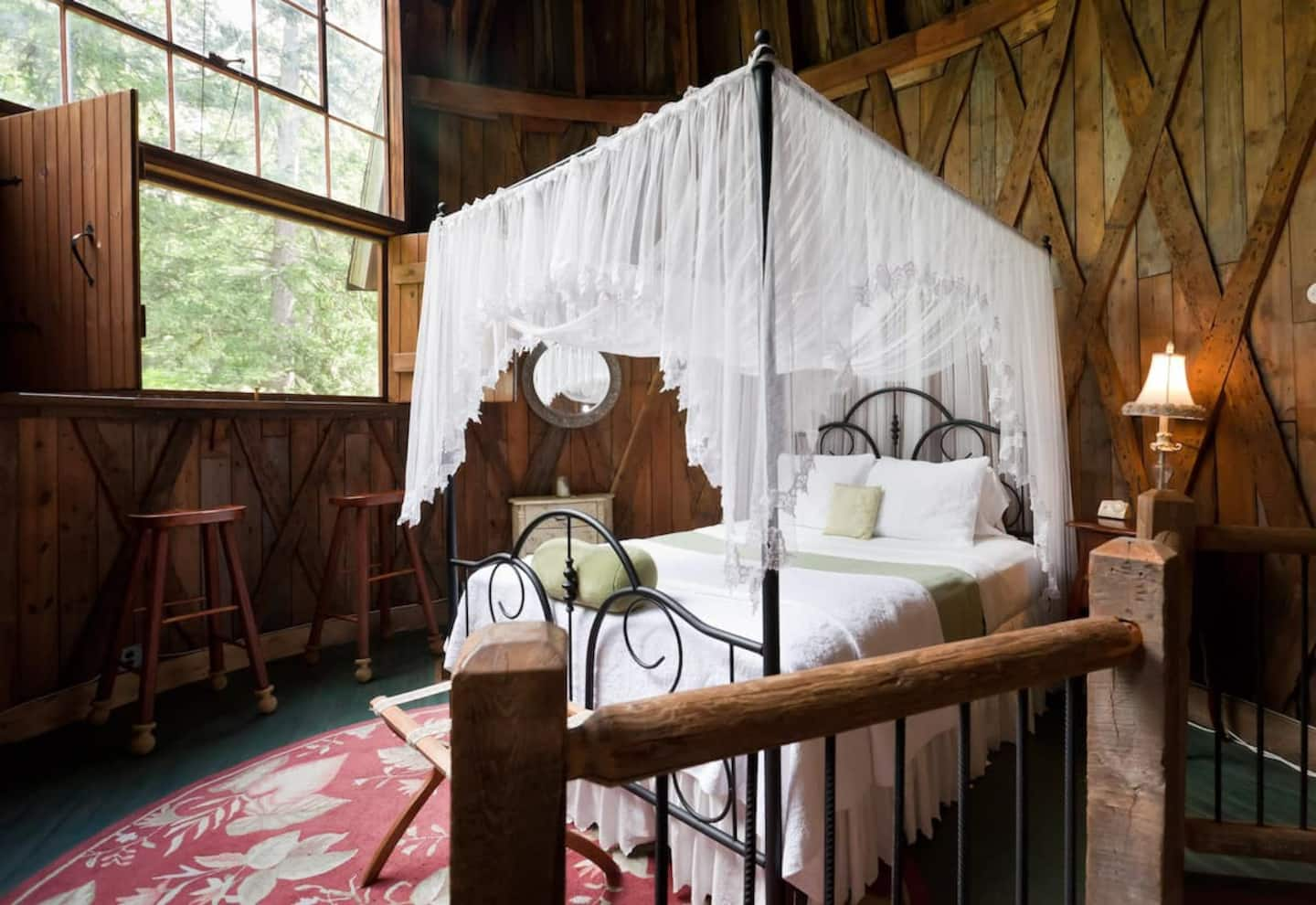 ---
Standout Feature
The 35-foot conical roof not only adds to the whimsy, but it's also paneled with windows on one side, so the space is flooded with light by day and views of starry skies at night. "Like one of our guests says, 'This place is like stepping into a different world,'" Joshua says.
---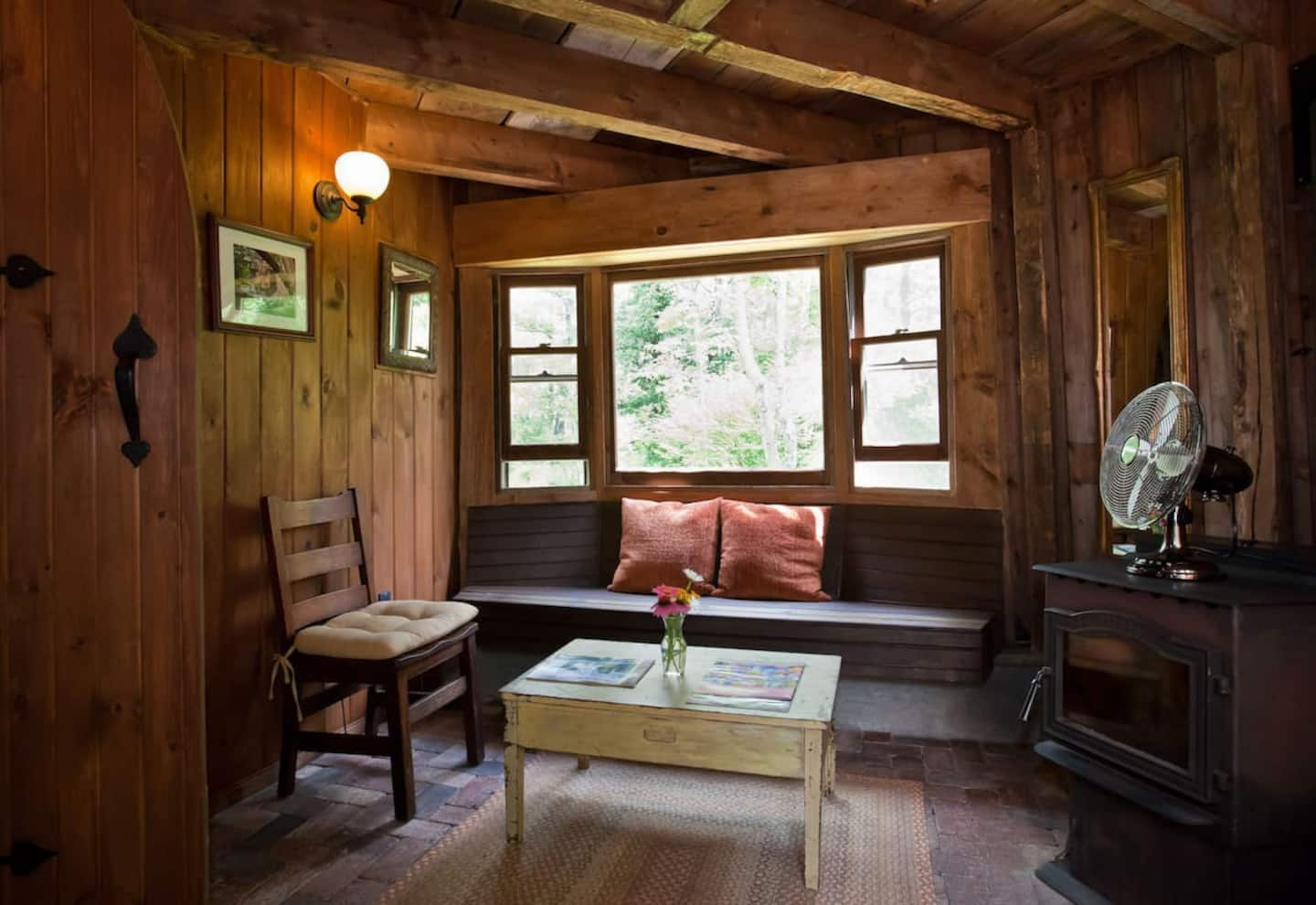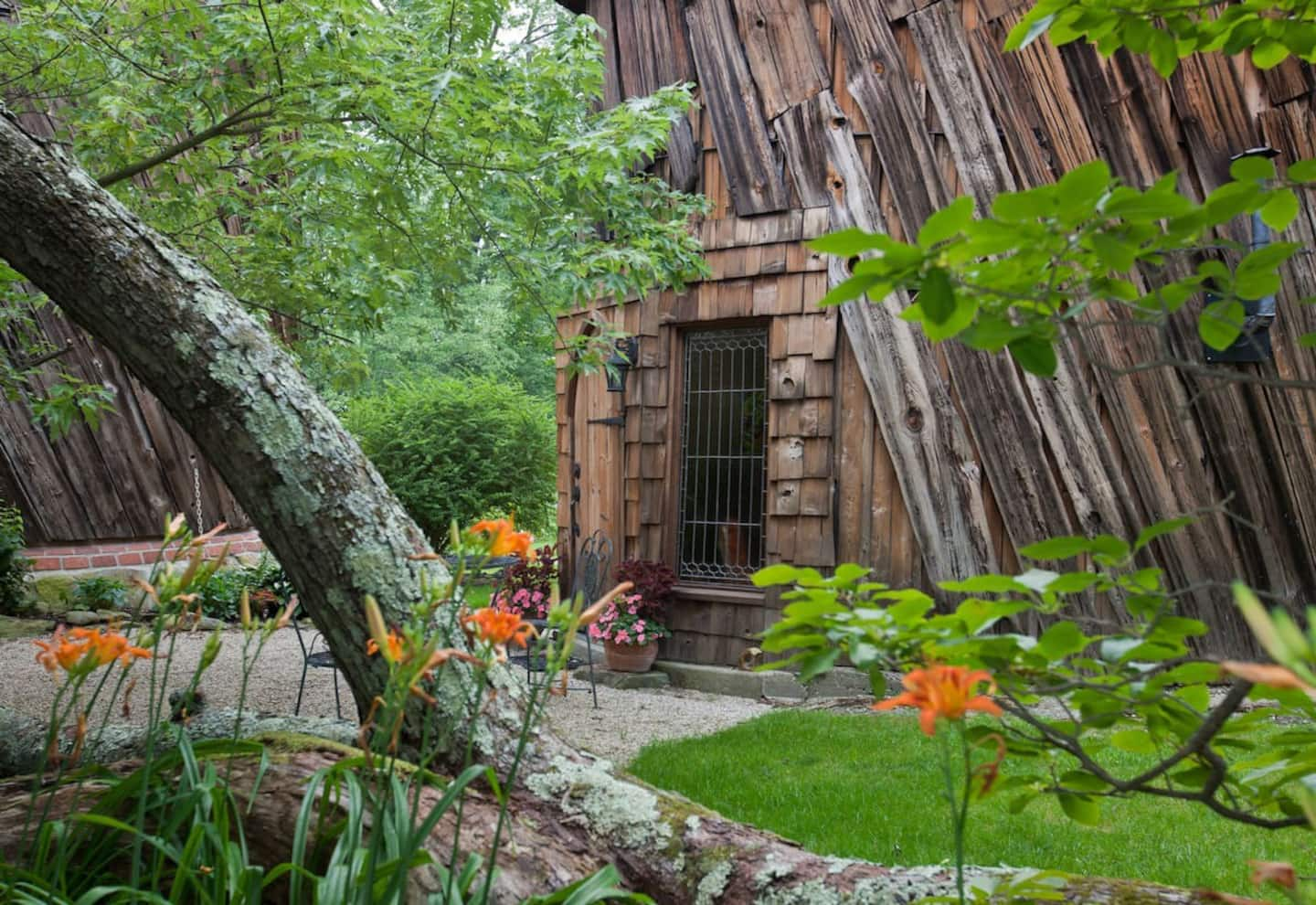 ---
Favorite Guest Memory
Joshua and Shaun welcomed their first Airbnb guests the day they moved into their new home — the country cottage on-site. In between coordinating movers, the two (now Superhosts) got to know a honeymooning couple who were spending the night. Considering the Covid-19 climate, the couples spent socially distant time outdoors, with the guests sitting and sharing stories by the creek while the Hosts worked on the yard.
Though their guest interactions have been extremely limited in a pandemic year, they look forward to the day when they're able to safely share stories and wine with their guests.
---
The New Zealand Glass House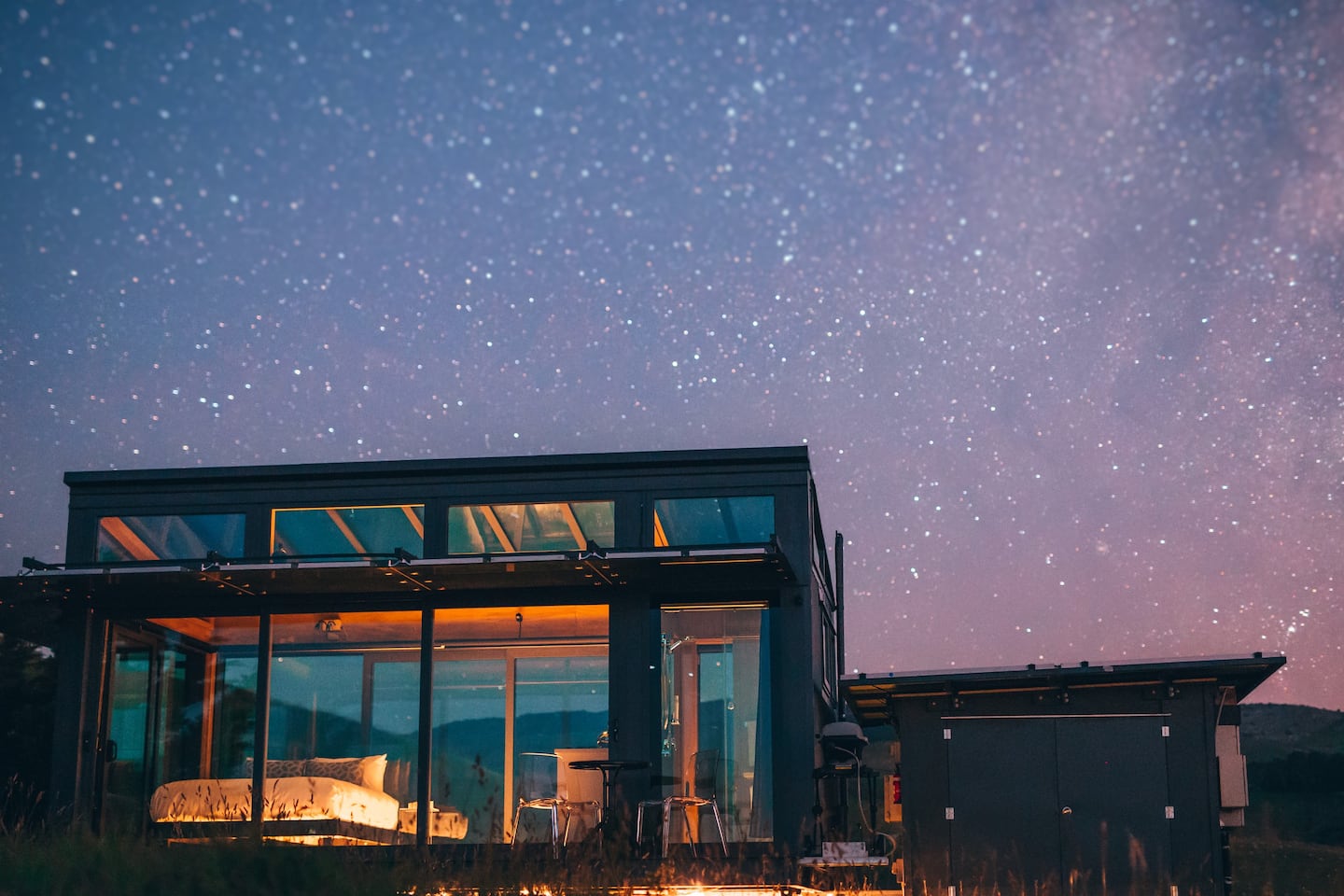 When looking for a change from her career in software startups, would-be Airbnb Host Stephanie Hassall came up with the initial concept for a solar-powered eco-cabin. Blending seamlessly into the tussock grass and bush, the Greystone PurePod, which opened in 2017, sits above an organic winery in Waipara, making it easy for oenophiles to slip away on self-guided bike tours through one of New Zealand's top wine regions.
The Story Behind The Home
Stephanie's childhood vacations were often at her family's mountain home in North Canterbury, and she still finds joy in New Zealand's landscapes. Greystone PurePod captures this feeling: Guests are sent "secret" directions that map out the unpaved roads and paths to take to reach the utterly remote locale sitting high above Greystone Vineyard. Keeping with the off-the-grid theme, the absence of wi-fi and electronics ensures complete immersion in the natural surroundings.
"It's a different experience from your normal city life, where you are constantly surrounded by thousands of people and never-ending sounds of traffic," she says. Stephanie spent eight years researching materials and configurations to land on a design that would place guests at one with nature (hence the glass-enclosed design), carry a light footprint, and still offer five-star hotel amenities and design (scope the acrylic furnishings, which look chic and don't obstruct views). "It's all about looking out and not focusing on what's inside," she says.
---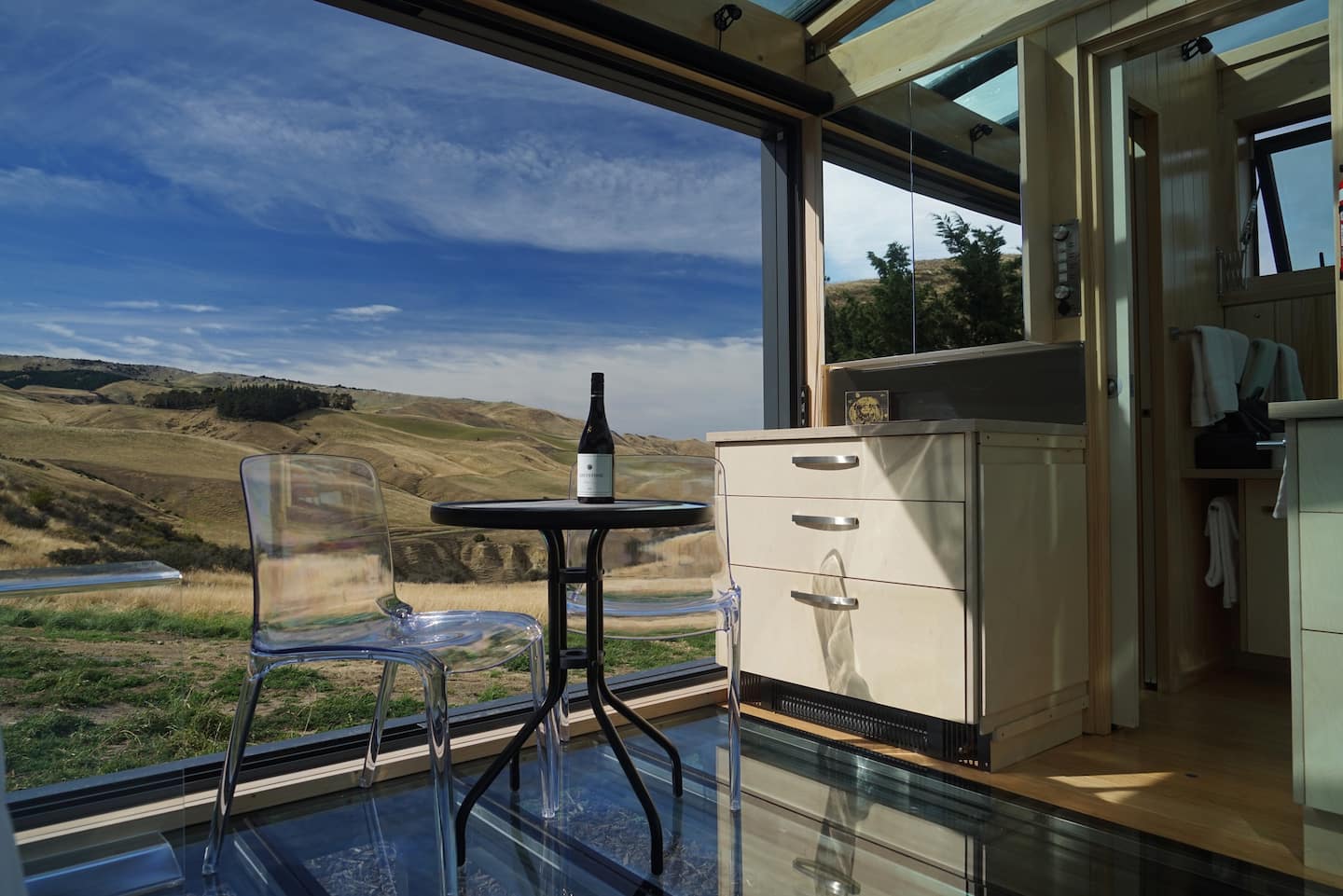 ---
Standout Feature
The 215-square-foot hut's glass roof and lack of light pollution guarantees a spectacular light show of the Southern Cross constellation almost nightly from the plush bed. "Designed for year-round use, even on the coldest winter day, you can stay lovely and warm inside while still being able to see the beautiful landscape outside," Stephanie says.
---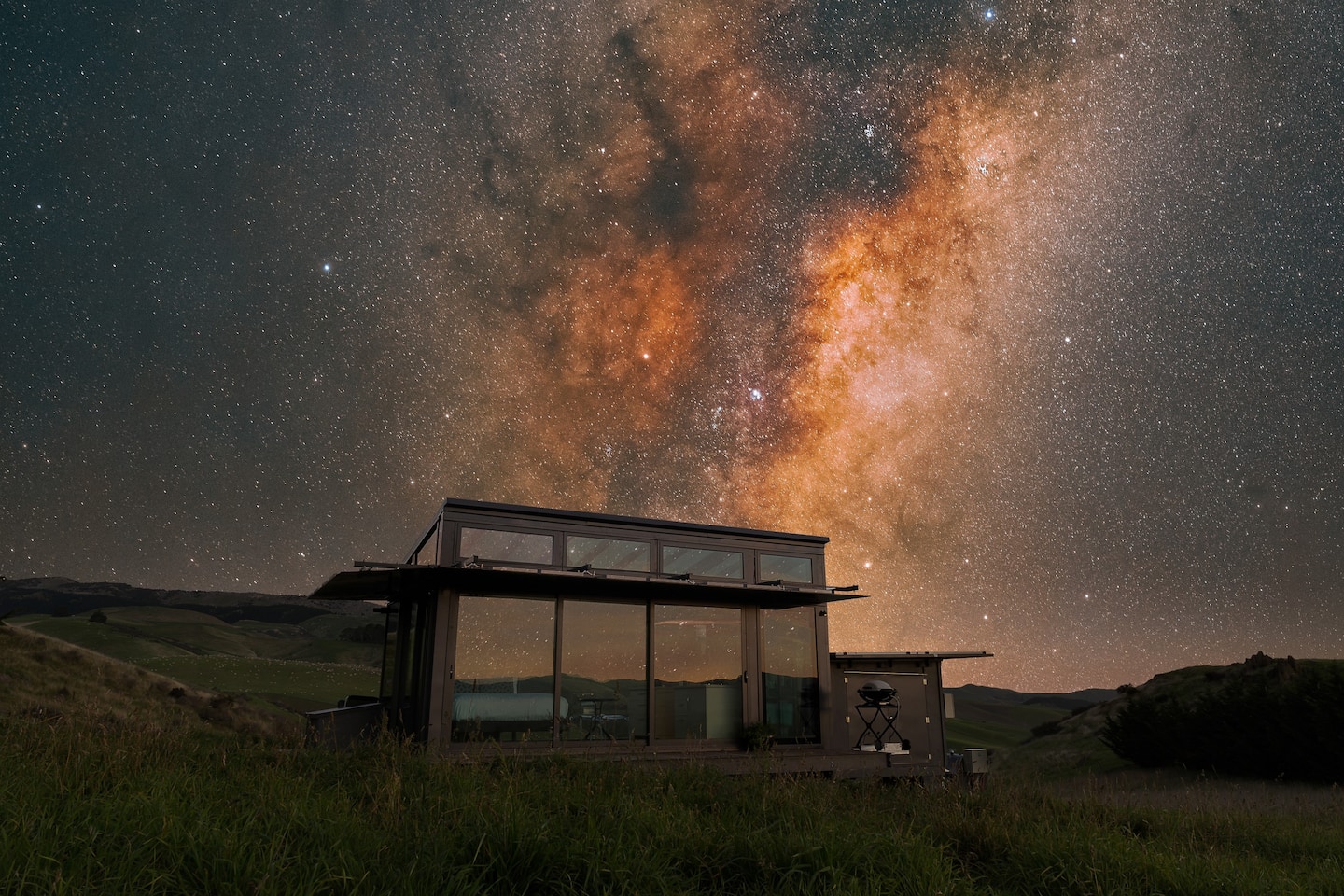 ---
Favorite Guest Memory
Complete privacy is guaranteed, so Stephanie doesn't often meet guests. But they'll usually leave a note or send photos or videos.
"We especially love hearing about the marriage proposals," she says. One husband-to-be left a note that read: "We had a wonderful evening on the balcony and caught a beautiful sunrise in the morning, and even saw some stars in between! Pure paradise for me to pop the question."
---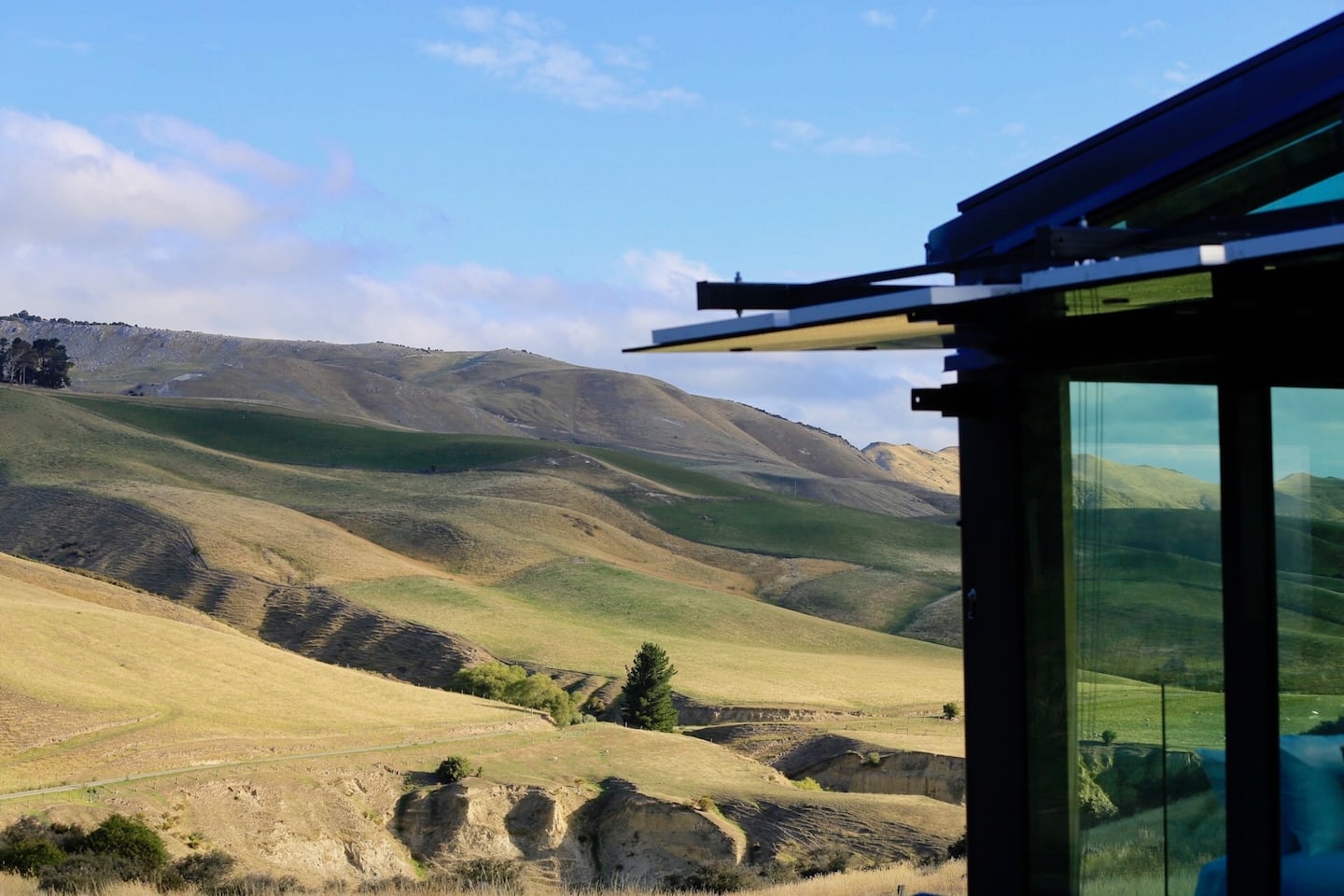 Written by
Stephanie Granada
Stephanie Granada is a Colombian-American freelance writer, who splits her time between Florida and Colorado. She's into books, her dog, all things ocean-related, and small towns. You can also find her work in Sunset, Woman's Day, National Geographic Traveler, Southern Living, and others.
---
Explore tiny homes on Airbnb
---