Vacation rental apartments in Washington, DC
Book unique vacation rental apartments, houses, and more on Airbnb
Top-rated apartments in Washington, DC
Guests agree: these stays are highly rated for location, cleanliness, and more.
Rental unit in Navy Yard
Sonder Europa | Lower-Level Studio Apartment
Europa checks all the boxes for a timeless D.C. adventure. Built from the ground up, these modern apartments boast new finishes, a fully equipped kitchen, and in-suite laundry. Snag a space with a private balcony and soak in the view of Barracks Row. In the heart of this historic neighborhood, you're just minutes from airy green spaces, and monument-lined avenues — the U.S. Navy Museum, Nationals Park, and National Mall are all within your reach. And just a short walk away is the Michelin-starred Rose's Luxury. Prefer dining with a view? The Yards is the unique waterfront destination for you. Or rent a kayak for a river view of D.C. while you're there. At Europa, you're surrounded by history, entertainment, and world-renowned restaurants.
Rental unit in Georgetown
Sonder | Georgetown C&O | Suite+
Let your D.C. escapade begin at Georgetown C&O. This charming red-brick building features modern amenities and plenty of natural light. And each space includes a kitchenette and a coffee maker. Drop by our off-site lounge and 24/7 fitness center just two blocks away. Excited to stroll around the neighborhood? You'll wander through a timeless blend of historic architecture, stylish shops, and dining. Or take in the dazzling D.C. skyline at the nearby Potomac River. The delightful district of Georgetown offers something for every traveler.
Rental unit in Adams Morgan
Adams Morgan One Bedroom Retreat
This light, airy one-bedroom English basement apartment has its own private entrance. Cable TV, WiFi, washer/dryer and a full kitchen make it easy to make yourself at home. The bedroom features a queen size bed and the living room is equipped with a pull-out sofa to accommodate additional guests. We never charge a cleaning fee! The apartment is located in the basement below the main house. It is 500 square feet with a ceiling height of 6' 9".
Popular apartment amenities in Washington, DC
Where to stay in Washington
Locals share their top neighborhood recommendations to help you find the one to call home for your trip.
Stay near Washington's top sights
National Mall
Park · 390 locals recommend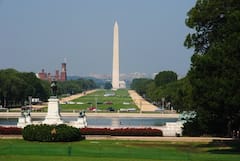 The National Mall is basically Washington DC's backyard – it's a grassy lawn where visitors and locals hang out on sunny days. Full of world-class museums (we'll get to this later) and fun festivals, the National Mall is the center of many activities in the city.
Smithsonian National Air and Space Museum
Science Museum · 236 locals recommend
Our two locations hold the largest collection of historic air & space objects in the world. In DC, see the original Wright 1903 Flyer, Apollo 11 Command Module "Columbia," and touch a Moon rock. Check out our Udvar-Hazy Center in Chantilly, VA, home to the Space Shuttle Discovery.

Tips from Washington locals
Get advice about the city from the people who know it best. Local hosts share their tips and recommendations for travelers like you.
"Bring a variety of layers I would definitely recommend packing in layers. temperatures can vary wildly - from 50f to 90f+ in one day. i would recommend bringing at least a sweater."
What should I book before I arrive?

"Some museums and tourist sites Get tickets for the african american history museum online with timed entries and get there early (or hit the museum late in the day (3-5) when crowds are thinner; the white house, the capitol (through your congressperson) if a us citizen; some popular restaurants (use open table); nats or caps games (although some day before, nosebleed seats are available at cheap prices); shows at the local theaters, etc."

"Bible museum & washington monument While tickets are free, they must be reserved in advance. make sure to have them booked and to show up for the time slot on your ticket or you might not get in."
"Shows and performances at the atlas theater. Visit their website or simply walk to the theater to inquire about viewings."

"Bus boy's and poets - poetry, karaoke, social hour You can enjoy brunch, poetry reading, books along with their monthly youth open mic. good luck finding parking it is usually hectic on a busy night. try catching lyft/uber instead!"
How can I save money on this trip?

"There are an abundance of activities to participate in that require minimal fees. The daily newspaper is a god source of information to find out what is going on in the city and where. also use your google search to find what is close."
"Metro rails do have elevator access for families traveling with strollers and other carriers. Consult with metro employees to get directions or information about accommodations."
The lure of Washington, DC, is no doubt in its role as a living museum of American history, packed with monuments showcasing the nation's greatest leaders (from Abraham Lincoln to Martin Luther King Jr.) as well as museums honoring the diversity of our nation (such as the National Museum of the American Indian and the National Museum of African American History and Culture). But beyond the historical and cultural landmarks is a city filled with a vibrant street life all its own, whether you're in trendy NoMa, historic Logan Circle, green-space haven Woodley Park, or eclectic Adams Morgan.
---
When is the best time to stay in a vacation rental in Washington?
DC is best known for its spring, when its show of blooms is celebrated with the National Cherry Blossom Festival in late March and early April. Temperatures tend to hit highs in the mid-60s Fahrenheit then, with lows in the 40s. October brings the same weather, but with fall foliage and nippy breezes. Summers are humid (no, it's not because the city is built on a swamp — that's simply folklore). Muggy temperatures in the 80s can feel icky, so opt for lightweight clothes and sunscreen. Winters tend to be the low travel season for booking vacation rentals since temperatures float between the 20s and 40s. Always keep an eye out for rain, as precipitation is spread throughout the year.
---
What are the top things to do in Washington?
National Mall
The epicenter of American pride is no doubt this two-mile-long stretch of open space, with the Lincoln Memorial on the west, Capitol Hill on the east, the White House to the north, Jefferson Memorial to the south, and the 555-foot-tall Washington Monument in the center. Other notable sites include the Korean War Memorial, Vietnam Veterans Memorial, and Martin Luther King Jr. Memorial. Also peppered along the way are several of the Smithsonian museums (all with free admission), including the National Air and Space Museum, National Portrait Gallery, and National Museum of African American History and Culture.
Georgetown
In DC's oldest neighborhood, stroll along the waterfront walkways of both the Potomac River and C&O Canal and enjoy the restaurants and nightlife, perhaps at the tavern where John F. Kennedy proposed to Jacqueline Kennedy in 1953 or a 1960s-era jazz club modeled after ones from the 1920s.
Dupont Circle
This lively neighborhood for shopping, dining, and nightlife is named after its center, a metropolitan traffic circle with a fountain and a new underground art space. Dupont Circle is also the perfect starting point for a self-guided tour along the quarter's Embassy Row.